Make a kingdom in your girl's bedroom using these super ideas
Every girl has her own idol and favorite character in her childhood, and they like to have them present in the room.
The most common characters are Disney characters, especially Minnie the Mouse and Disney princesses.
So let's make a kingdom for your princess.
Put practical storage boxes in the room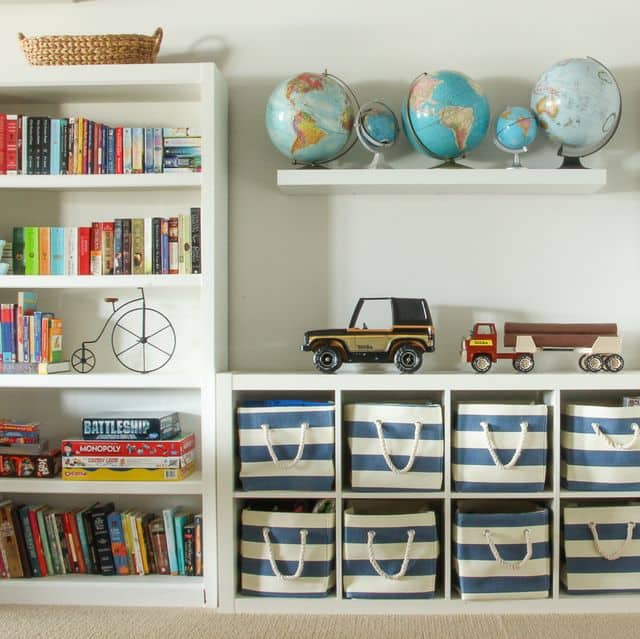 Make the room spacious and well organized with some storage boxes. You can use them for toys, books or anything you have in the room. Shelves are also great for saving space, and you can put a lot of things there. If the room is small you can put boxes under the bed.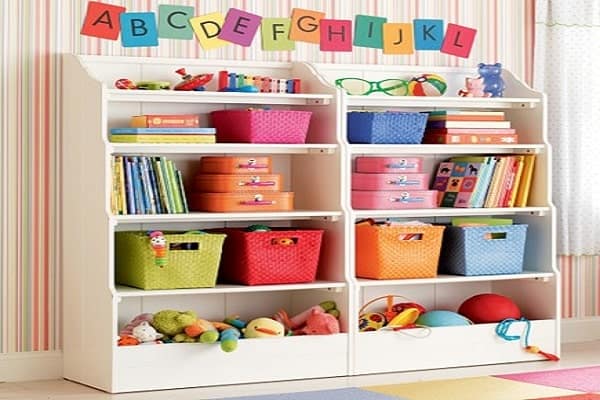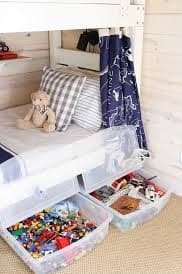 Play with drawers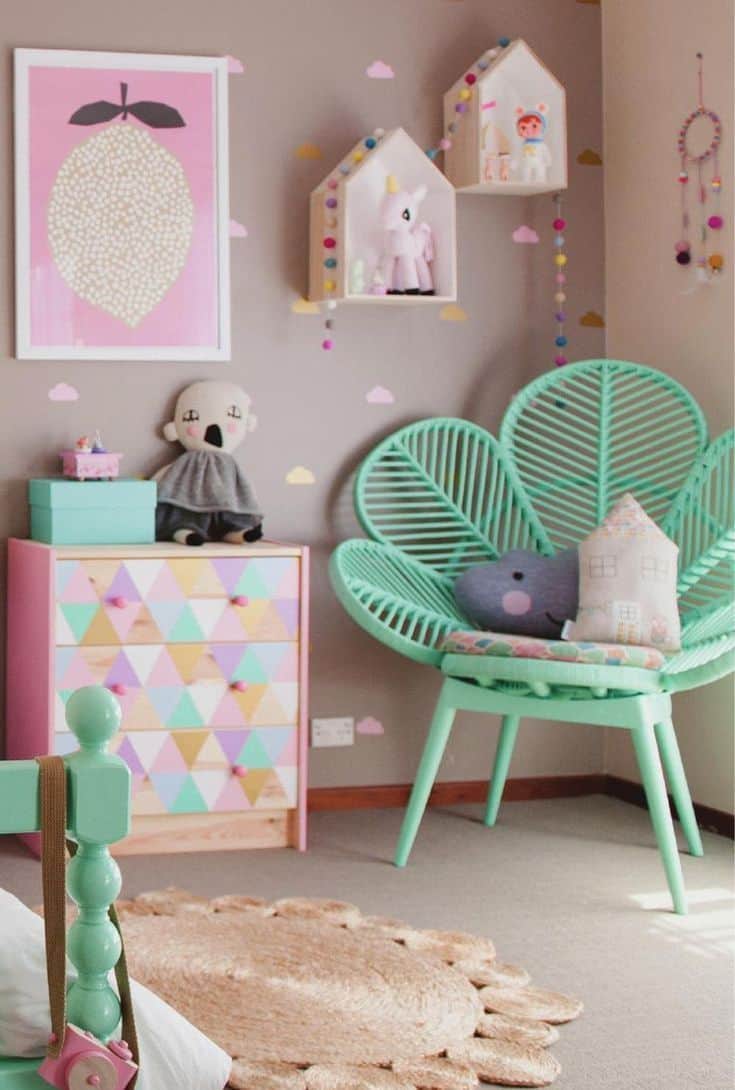 Drawers don't have to be plain. Add more light in them. There are designed drawers with some characters. Or you can paint them and match with the main color in the room. Otherwise, they don't have to be matched. They can be colorful. The space will be more vivid.
Make a gallery wall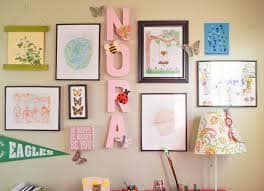 Every girl has different interests and hobbies. Personalized the wall above the bed or desk. Frame her photos, favorite characters, certificates or even some medals. Let the gallery wall tell more about her.
Kids love dens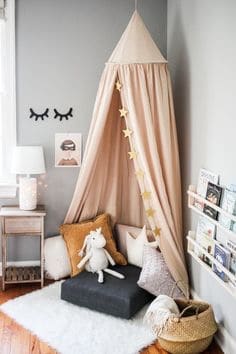 Dens are great for reading and playing and kids love them because they have a "private" space for them. You can create a den or buy it. Put a rug and some cushions and it will look amazing. Pastel colors are perfect for that,
Themed rooms
You can make a magic room for your little girl by making a themed room with her favorite character.
Princess room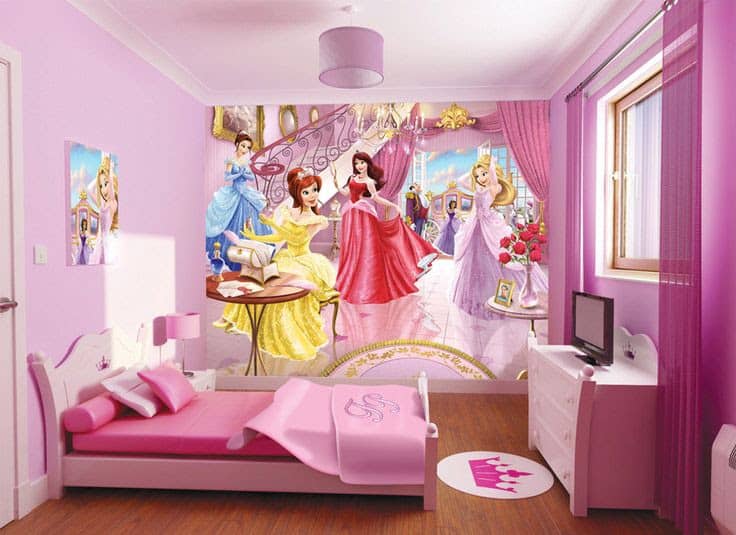 Aurora, Cinderella, Ariel, Belle are some of the princesses which all girls like. So, you can put them in the room. How?
– Paint a themed mural or put a wallpaper on the wall.
– Buy a Disney princesses sheet for her bed. – Disney carpet is a must-have, especially because kids like to play on the floor.
– The bed can have some Disney motifs. It can be just pink or looks like a carriage or a castle. It can have pictures of princesses on the bedsides.
– You can use a wardrobe for making a themed bedroom. The doors can be painted in pink or with some princesses on them.
– If the wall is white or simple, frame some Disney pictures on it.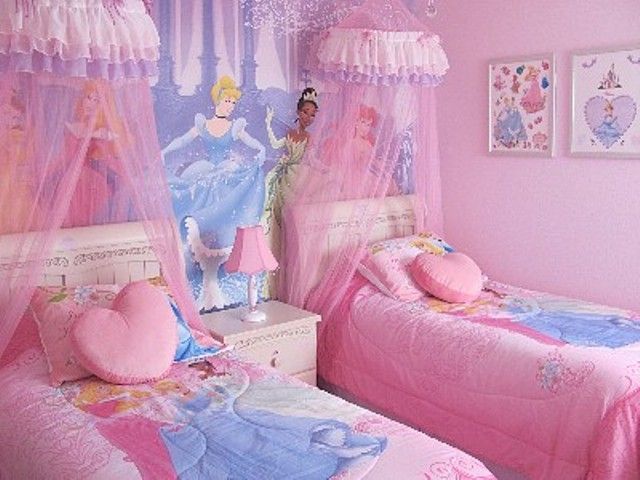 Unicorn room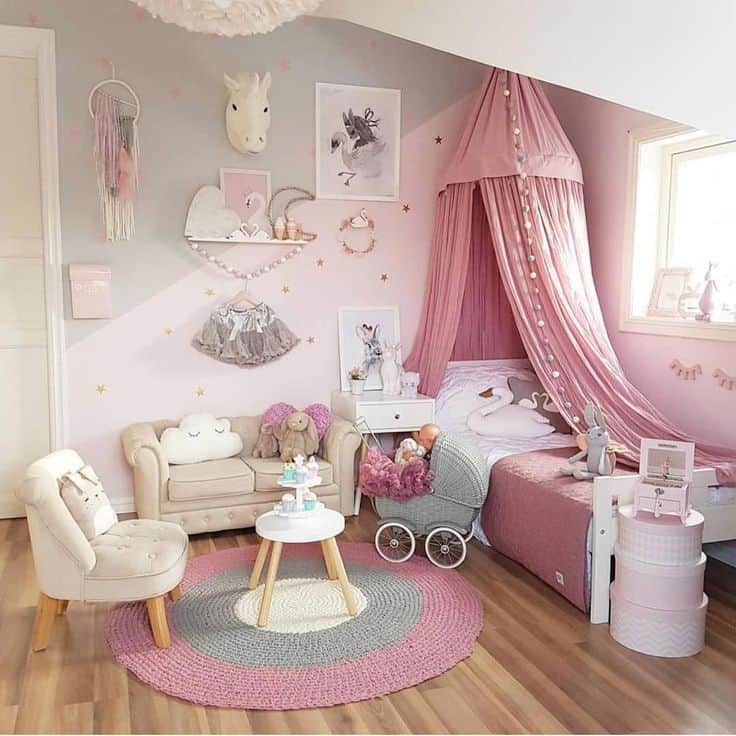 Unicorns are very cute creatures and most girls love them. Purple color is good for this room. Or white and pink combination is also fine.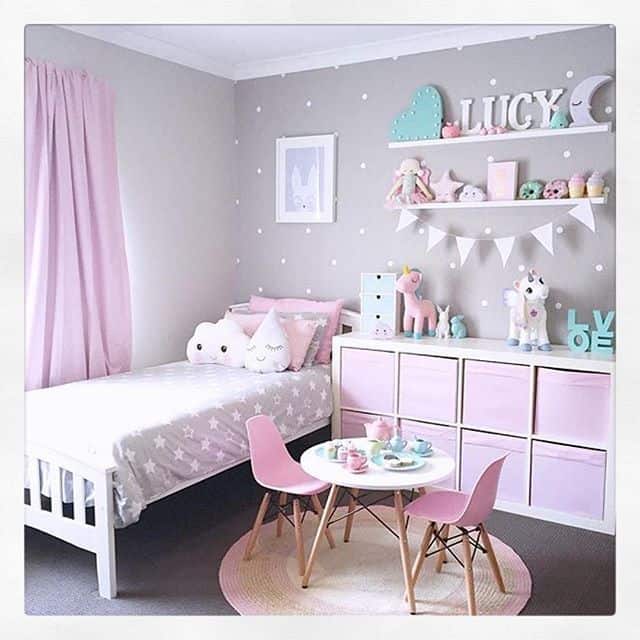 Use fine colors for the decoration
We all know that the first symbol for girls is a pink color. Pink is the most used color for girls' clothes, furniture, and decoration. Minnie the Mouse always comes with pink.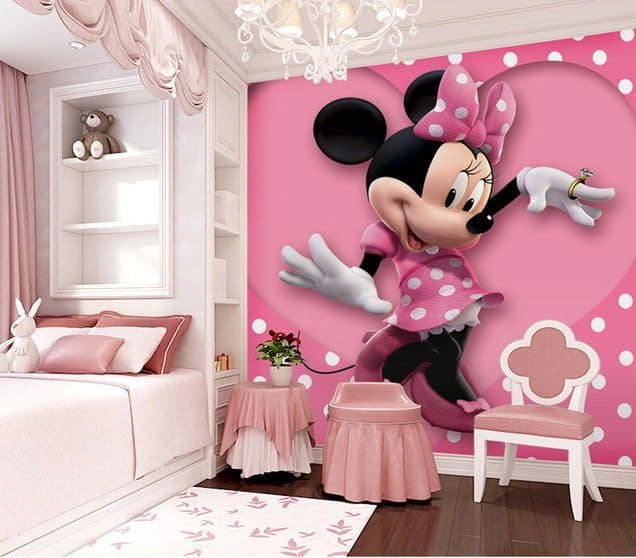 Purple is also a popular color for girls. This color is sometimes combined with turquoise.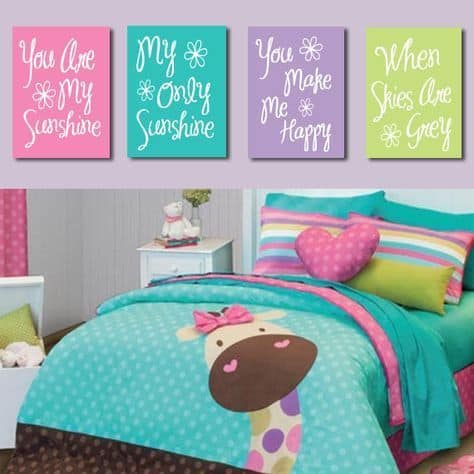 Pastel colors are always a good idea for girls' bedrooms. They are so girlish and make a comfortable atmosphere.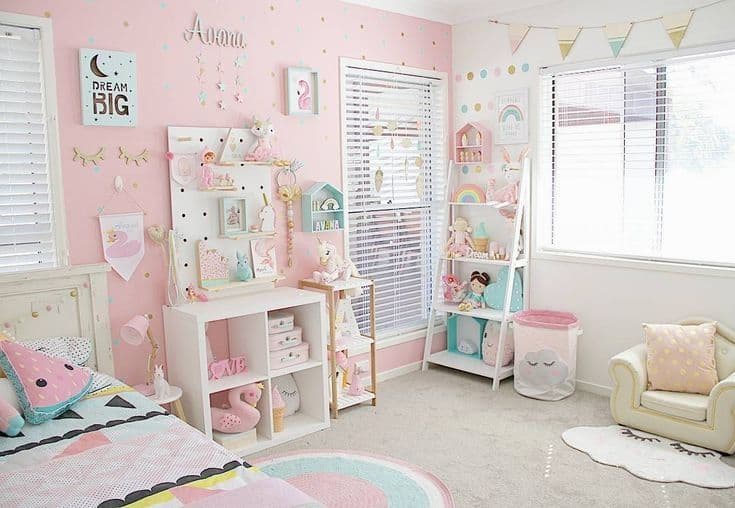 The coral color is also so girlish. It's a color between pink and orange and it looks great with white or beige. As homedit wrote, coral matches with some beachy colors because the name of this color comes from the coral plant that leaves in the ocean.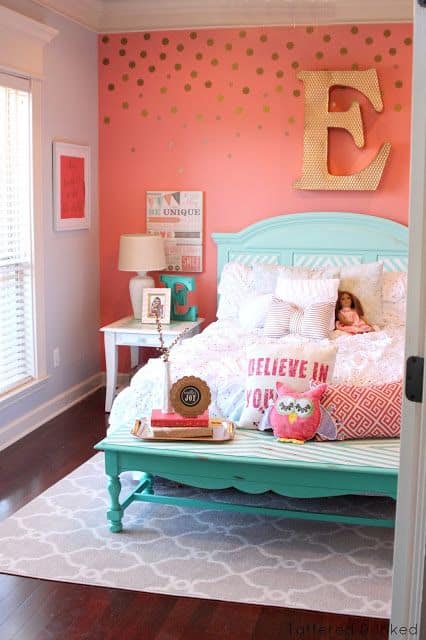 Blue is a color that most girls like because of her favorite character Elsa and the cartoon "Frozen". It can be well combined with other colors, such as pink, white, etc.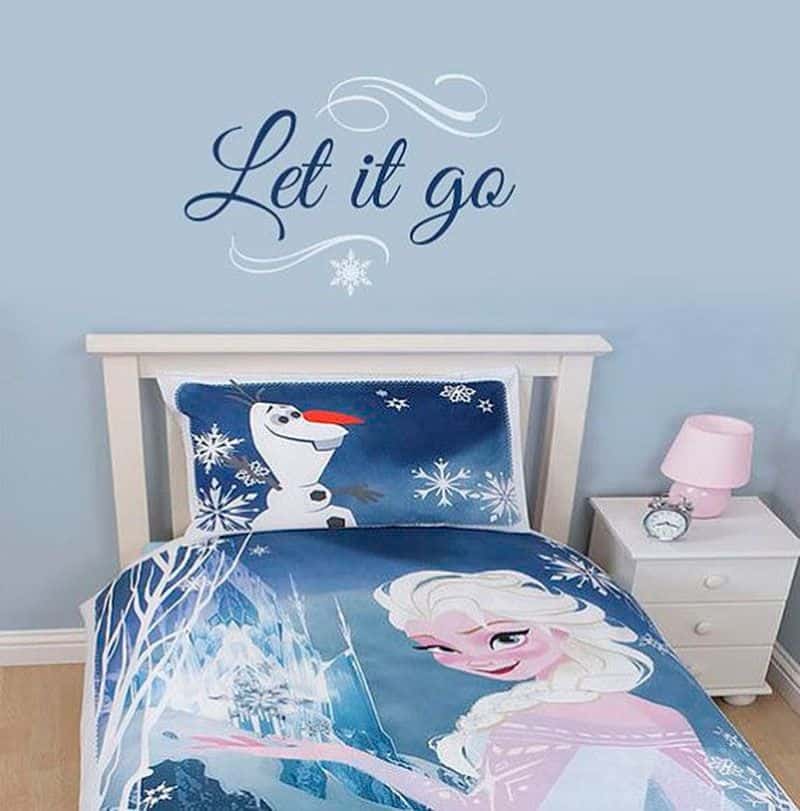 Choose the right furniture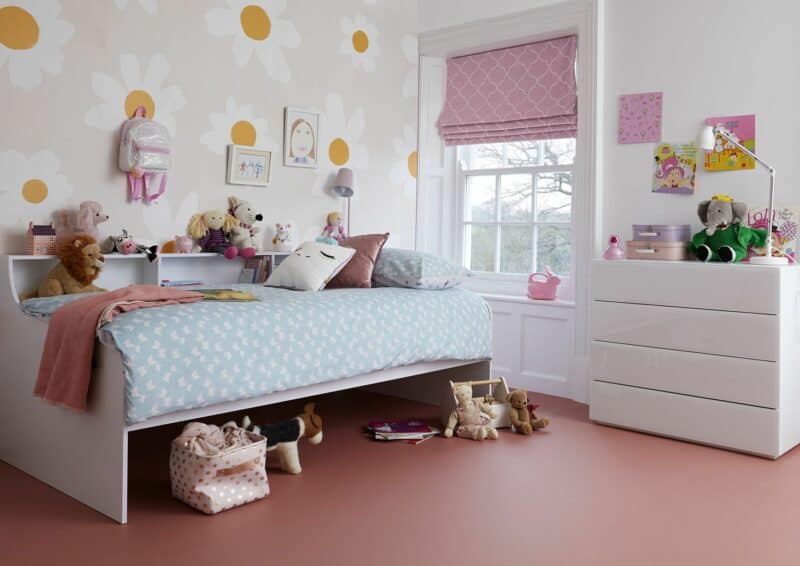 Even if your girl is in kindergarten, it's good to have a plan for her bedroom, especially for small rooms. Most people renovate the room/home and leave that for a while, so it's good to buy everything you need. Besides a bed and wardrobe, you can buy a desk and a chair.
It's good that your girl sometimes draws or paints there, for making a habit.
Carpets are good because they will also give a new look to the room. If the room is white and you buy a pink, Disney carpet, the room will look totally different. If you don't have enough space, roll-up beds are always a good idea.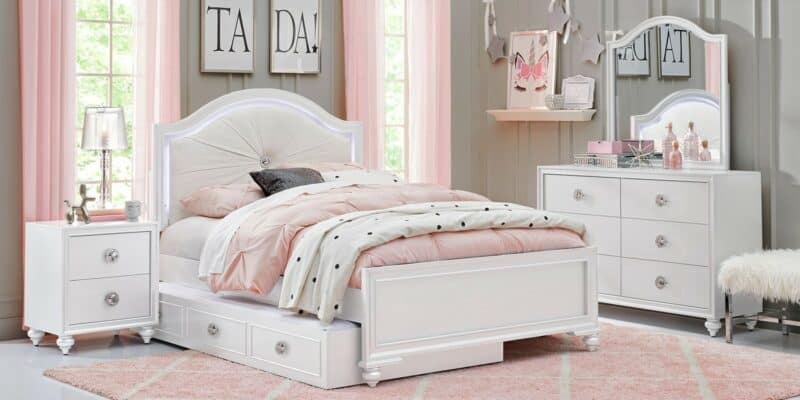 You can find more about decorating your child´s room here.There are various ways to make a perfect room for your princess. Just follow her needs and interests and using these tips, you will make a win-win combination.