Wonderful Halloween decoration ideas you will love it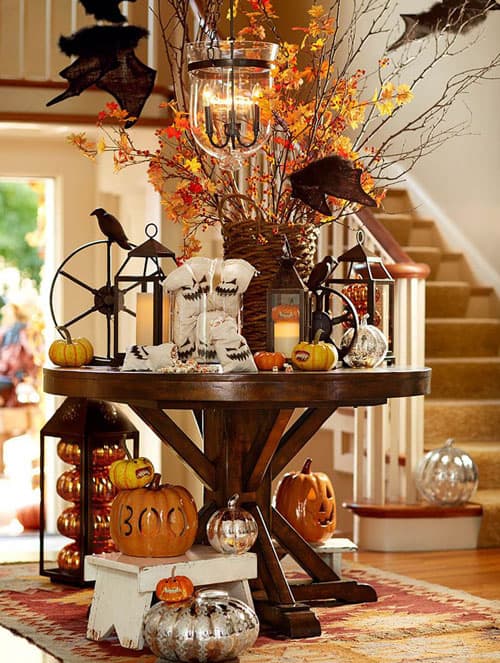 "Nothing on Earth is so beautiful as the final haul on Halloween night." – Steve Almond
Christmas is the most important holiday and we all love that magical spirit. Otherwise, this holiday makes us super excited and more creative than usual. Yes, you are right. We are talking about Halloween.
Halloween is coming, and you don't have any ideas on how to decorate your home this year? We will help you.
Play with your windows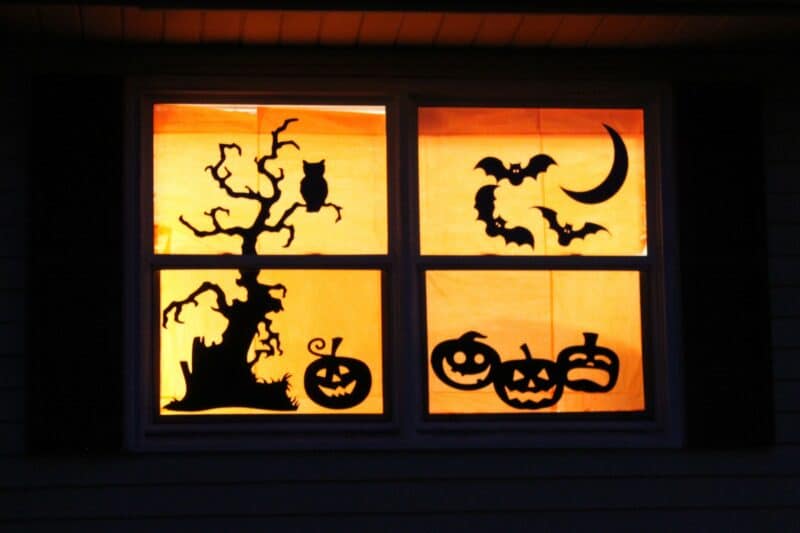 Windows are great for decorating your home. They are visible from the outside, so you can get a special look with your decorated windows on Halloween night.You can paint them with some spooky motives, or you can buy some stickers. They are cheap and easily removed after the holiday. There are also many Halloween posters for windows.
Your front door is a must-do
Such a perfect spot for decorating! You can start with your doormat. There are various spooky doormats. A web and a spider on it is cool, a black cat or a witch or even a text on it are perfect to bring the spooky atmosphere.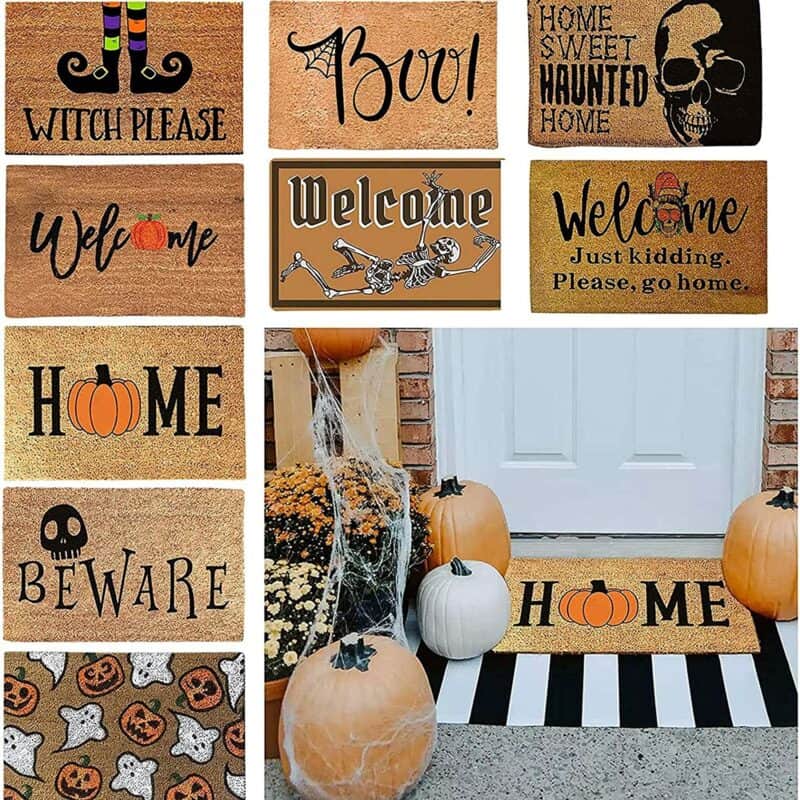 You can paint something on the door, just find an easily removing color, or use a spray. Paint a jack-o-lantern on the door. It's easy and you don't need a lot of time for it. If you have red color, write a note on the door, such as "Help" and make a fake blood on the door.
Hang some brooms on the door. This is a time-wasting solution but it's still funny and interesting.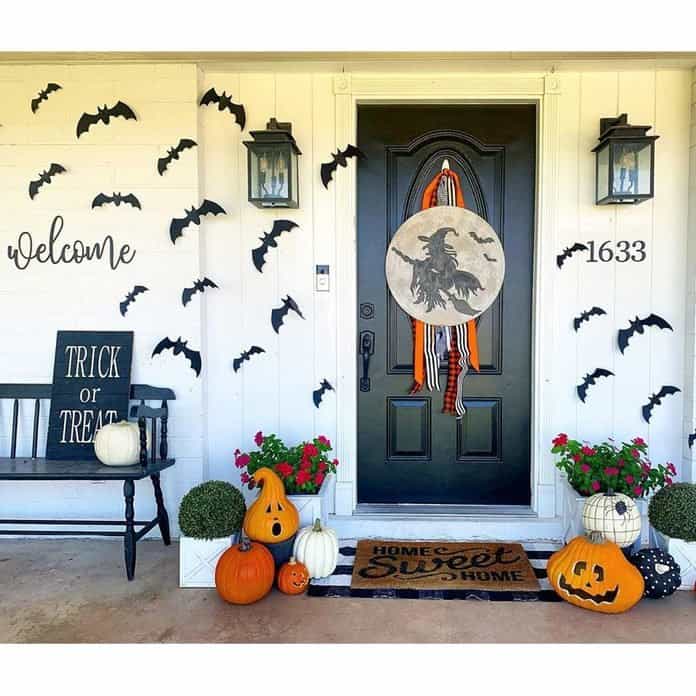 Door stickers are also an excellent choice, and you can choose a skull door sticker, or a witch. Larger stickers are more effective or a lot of small stickers, a lot of small spiders.
Impress your guests and neighbors with some scarecrows in front of your door.
Decorate your doorbell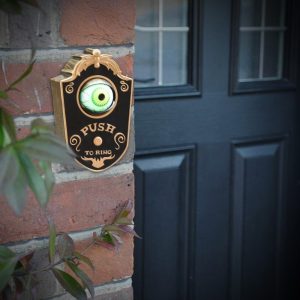 There are many animated doorbell designs for Halloween, but you can also make it by yourself. The most common is an eyeball doorbell. It's interesting because the eye lights up and there is a creepy sound and it speaks some spooky phrases when someone rings. You can find it here.
You can make a web, put it on the doorbell and hang a spider on it. Another creepy idea is to make a bloody handprint on your doorbell.
Follow the pumpkin tradition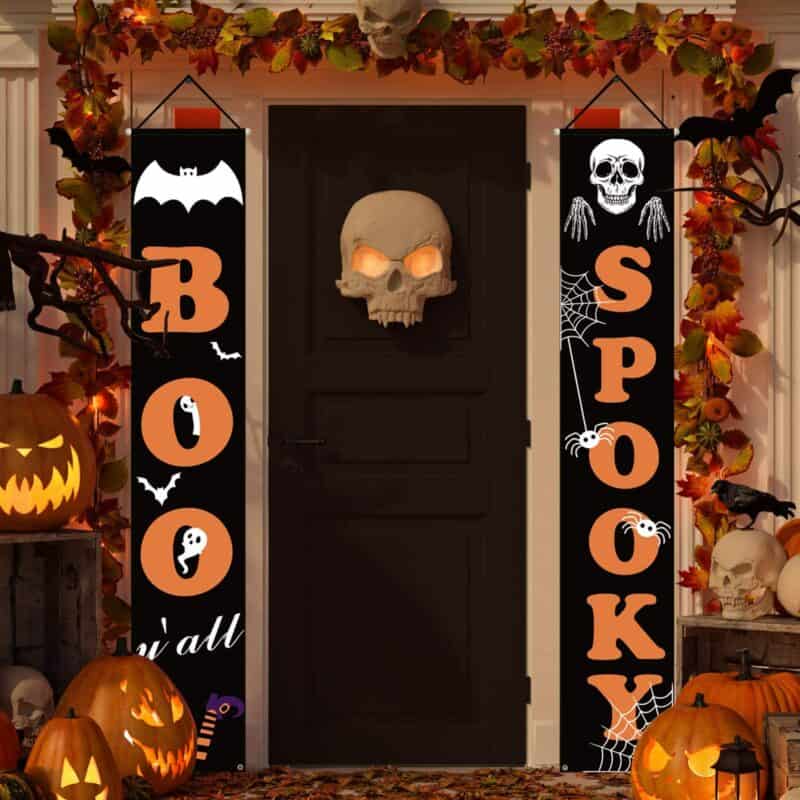 Crafting pumpkins is the spirit of this holiday and making them together makes a lot of fun. So, be creative and make your Jack-O-Lanterns. Put them everywhere. Put them inside and outside too. A few pumpkins in front of your front door is a win-win combination. Put them in your hallway and in the living room. Window sill extender is definitely a spot for decorating, and among other decorations pumpkins can also be there.
Make some spooky wreaths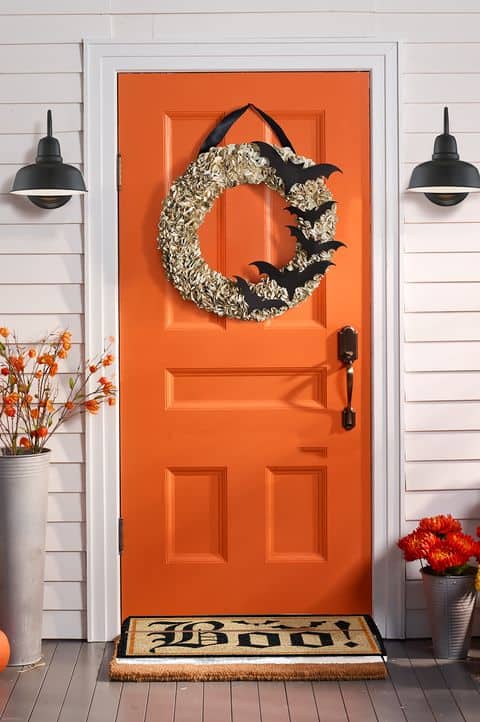 Some creative Halloween wreaths can give a good look on that spot. They can be funny, creepy, with some skulls, witch or text on it. Or you can make it by yourself. A web wreath is not difficult to make. Eyeball wreath, pumpkin wreath, spider wreath, skull and black wreaths are some of interesting ideas you can use for your home. Wreaths are good for your indoor and outdoor decoration.
Spooky hallway is a perfect fit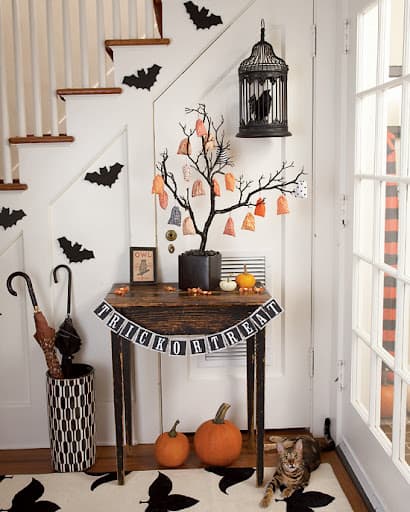 We can often hear that windows and the door are the eyes and mouth of our home, but the hallway makes that first impression when someone enters your home.
In the spirit of Halloween make your hallway creative and funny.
Hang some fake cobwebs in your hallway. You can make them with some polyester and with some cotton balls. If you have a mirror, cover it with some cobweb or write some creepy notes with your red lipstick or spray. Add some hanging spiders from your ceilings.
Bring the Halloween vibe in your home with some details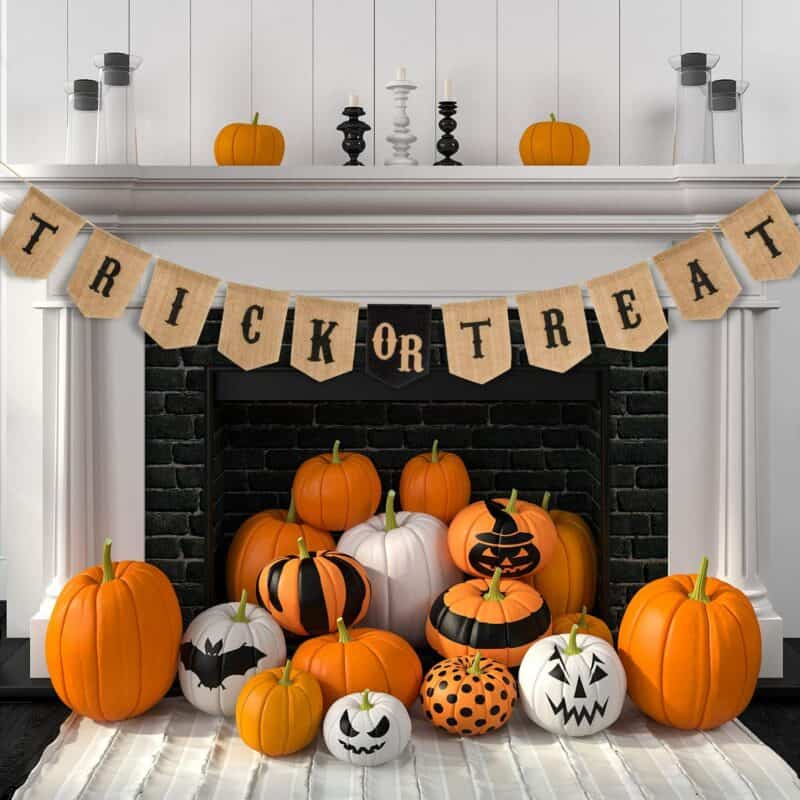 Bring the Halloween spirit inside with some decorative stuff. If you have a fireplace, decorate it with some carved pumpkins, cobwebs, candles, and creepy details.
Put some wall stickers on your cabinets and dressers.
You can find some interesting halloween lights. Decorate your coffee table with some creative candy bowls. Implement your space with some decor kits, figurines, animated decors and wall signs.
Make this Halloween special for your family and you and have fun in decorating your home.