10 super ideas for your little boy's bedroom
There comes a time in every rightly little boy's life when he has a raging desire to go somewhere and dig for hidden treasure. -Mark Twain
Every day, we learn something new, especially children, when they are curious about everything they see around them. Little boys change their interests, needs and desires often, but you are there to balance and conclude what is that what your son loves the most following his needs. Implement that in designing his new bedroom and you are ready for these great ideas. Always have in mind that his needs will change and you will need to update the room.
Start with a playful room
Most boys love sports, playing with a ball, pretending they are warriors and super heroes. Let that be the focus in creating the perfect bedroom, as that is your son's major interest. Boys need more space for active games in the bedroom, because they like to play in their private zone. Make the room spacious, depending on the room's possibilities.
You can set up a wire on the wall or on the door for basketball.
For large bedrooms, a football table is a good idea, because boys love to play it.
The point is to leave the central part of the room without any furniture. Put a carpet or a rug because it will be better for playing on the floor.
Make a galaxy in the room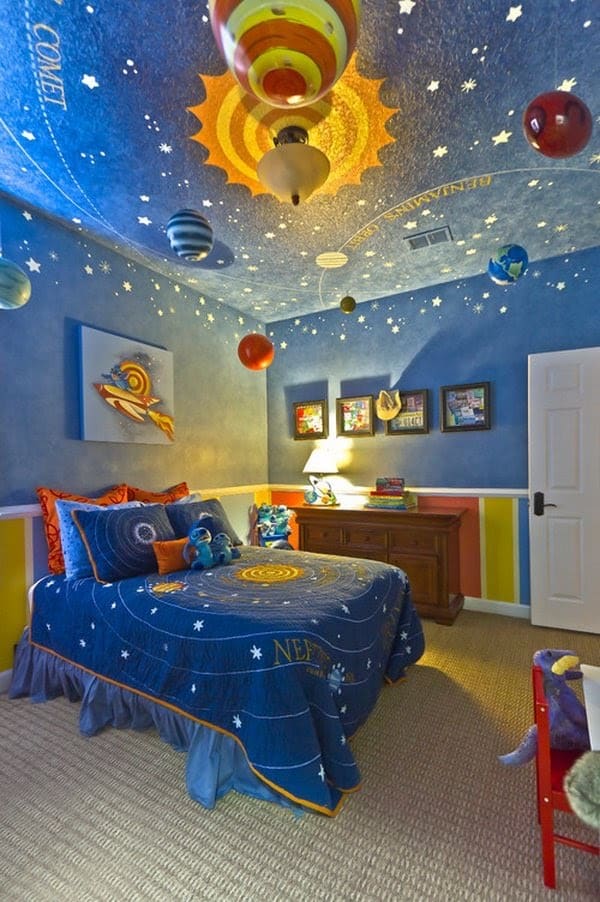 Boys are impressed with planets, galaxies, stars,etc. If your son loves that, make a themed room for him. Focus on one wall and paint it with some space motives. You can paint a planet, solar system, or an astronaut in the galaxy.
What is more impressive? A galaxy painted ceiling. Wow! Your boys can lay in the bed and imagine that he looks at stars and the open sky.
Make the bed unique. It can look like a rocket. You can find more ideas here.
Jungle vibes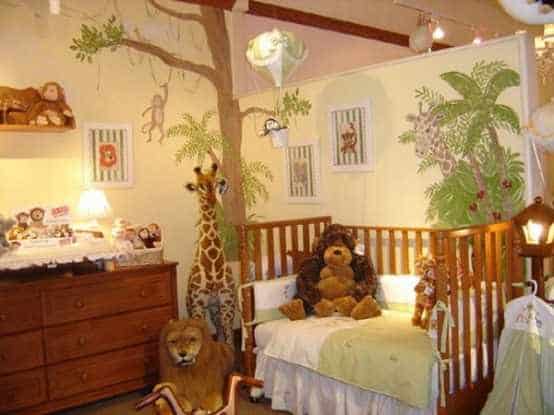 Tigers, lions, and elephants are some of the animals that boys like. Make the jungle vibe in your son's bedroom. This themed room can look so fun and vivid. Natural colors are relaxing and peaceful, so using some green color in the room will make that feeling.
A painted wall is a must have. Depending on your budget, choose a wallpaper or a mural for the wall. Play with a bed. 🙂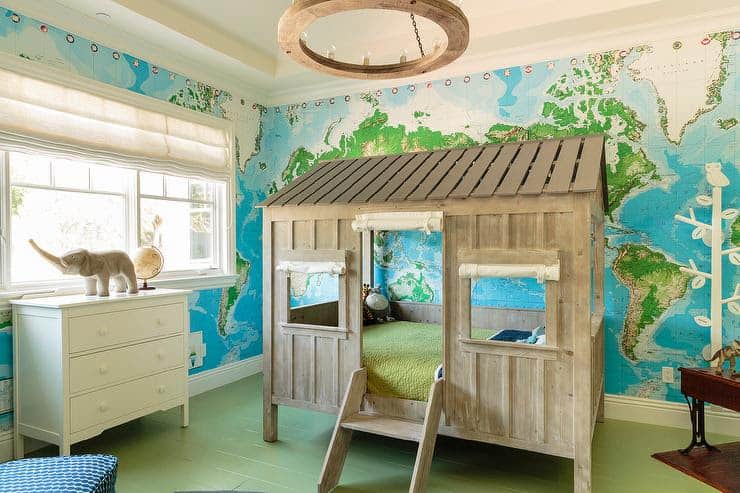 If your budget allows that, make a tree house bed. Or you can just buy a wooden bed, because wood associate us on nature.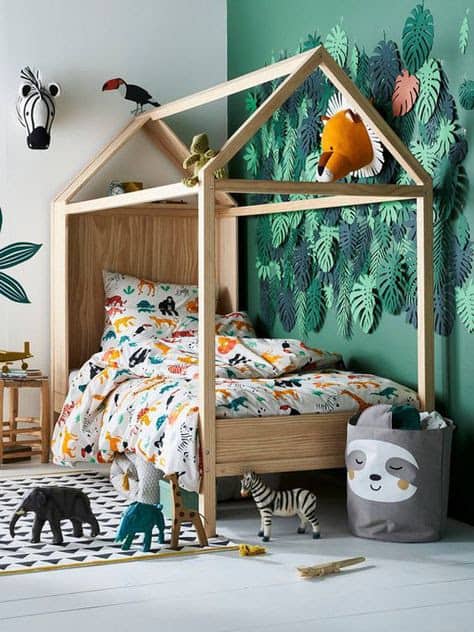 Make it simple
This is always a safe choice, especially if you don't want to renovate the bedroom for a while. Use some neutral colors for walls and furniture and make a childish look with toys, carpet, and some posters or frames. A gallery wall is also suitable for this combination.
Use wall stickers
Adding some wall stickers is the fastest, cheapest, and easiest way to bring a new look in your son's bedroom. It's cleanly removable, so when your son is older you can just change it. You can also use stickers on the furniture.
Superhero room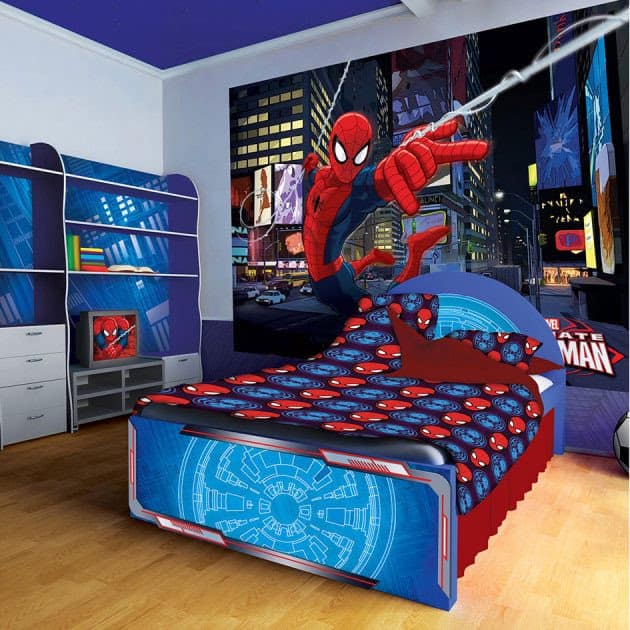 If your son loves superheroes, put a Superman sticker on the wall and a smaller Batman sticker on the bedside.
Paw Patrol room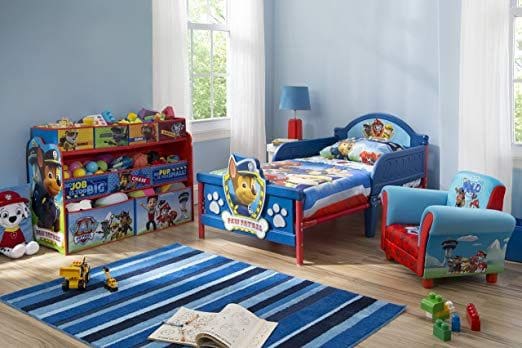 Little heroes on the wall in your son's room can implement the room.
You can use some of these ideas from the picture and make a themed room.
Blue color is a synonym for boys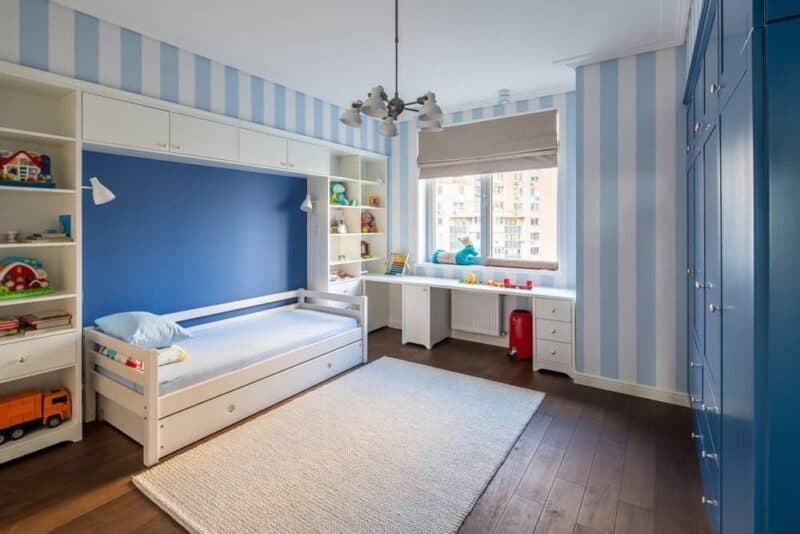 "Blue is therefore most suitable as the color of interior life." – William H Gass
Blue color is always trendy and most boys love it. It also relaxes our senses, so it makes a calm atmosphere. You can paint walls in blue, or buy blue furniture. Mixing different shades of blue is an excellent choice.
Make a toy car wall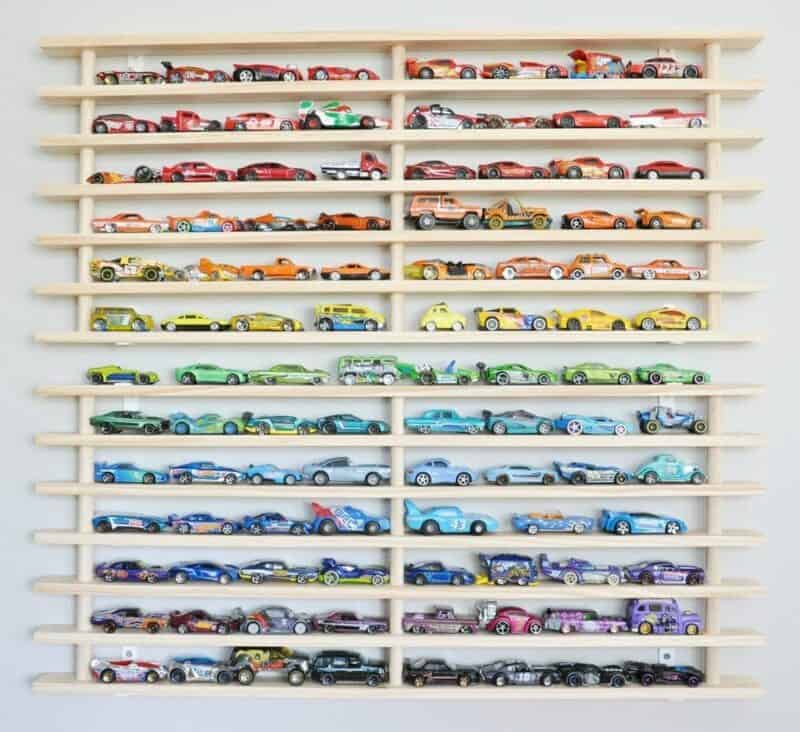 Cars are always a must-have toy for every boy. They like to collect them. You can make a toy car wall. How? Install shelves and fill them with a collection of your son's favorite cars. It can look so effective. If you put a car sticker or sheets, you can make a car themed room.
Adventurous room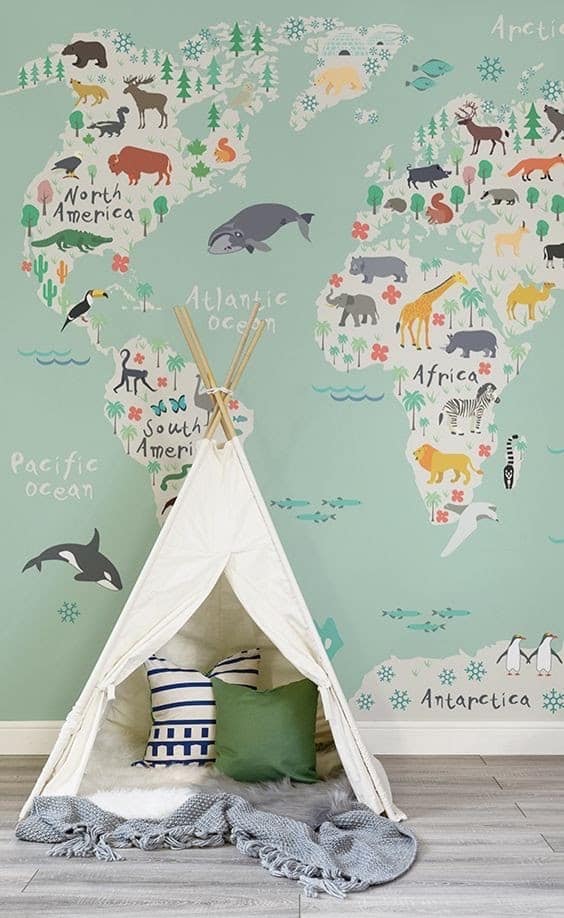 For creative boys you can find a suitable theme on the wall. The Safari theme is a good idea, or a world map. Put a den in one corner, so your kid can go camping in his room. ☺️
You can find more about decorating your child´s room here.
With all these bedroom ideas, you are ready to impress your son and make a beautiful bedroom.