How to welcome shabby chic decor in your home
The shabby chic style is originated in the UK and showed the houses in which the old, hand-painted pieces of furniture with soft colors and textures creates a pleasant and warm atmosphere.
That's how the name was created – from the words "shabby" and "Chic." This style is very popular because it does not require a big budget, but only great creativity. It is glorifying imperfection and natural beauty.
The colors of Shabby Chic Style
The colors that are characteristic of this style are kept, simple and delicate, from white through pale gray, beige and white colors of coffee, to lavender, pale pink or pale turquoise shades. In the premises next to the white emerge pastel shades like blue, pink, green, and some details may occur and in silver and gold shades.
Shabby Chic Walls
The walls are mostly white, but using a variety of fancy wallpaper with soft pastel colors will create a pleasant and comfortable atmosphere in your home.
Wooden floors in pastel or dark tones
Like everything in this style, even floors must contain a certain amount of rustic, shabbiness, yet sophistication. Wood floors are an important part of every shabby chic interior. Depending on your personal style, and the effect you want to achieve in your interior, wooden floors can be varied. Of those who are restored and repainted in white or other pastel tones, to those dark and massive.
Shabby Chic Furniture
Furniture is with a lot of details. It is mostly painted in bright shades, white, beige or gray. All pieces have a variety of ornaments and the deep carvings. That is what shabby chic decor makes so lovely. Besides the furniture, the impression of shabby is often achieved, and on a white brick wall and wooden surfaces.
Materials and Details in Shabby Chic decor
Everything about this style is in the details and how to combine many elements. Little things play a major role in any decor. A variety of vases, old painting, fabric, decorative boxes, flower pots, and trays, plates, are only a minor part of what it looks fantastic in shabby chic decor.
When choosing décor, commonly used are natural materials like cotton and white linen, faded pastel colors, many pillows, lace, satin ribbons, flounces, bows, curtains, lamps, blankets, and patchwork. All this must be retro, romantic, feminine, floral, especially the popular motif of roses, lavender, and hydrangea. Fabrics are often stained on purpose with tea to make it look older. Decorative elements are pearls, silver, mirrors, and crystal.
You can complete your Shabby Chic interior with chandeliers decorated with ornaments, which will give your interior a certain amount of elegance.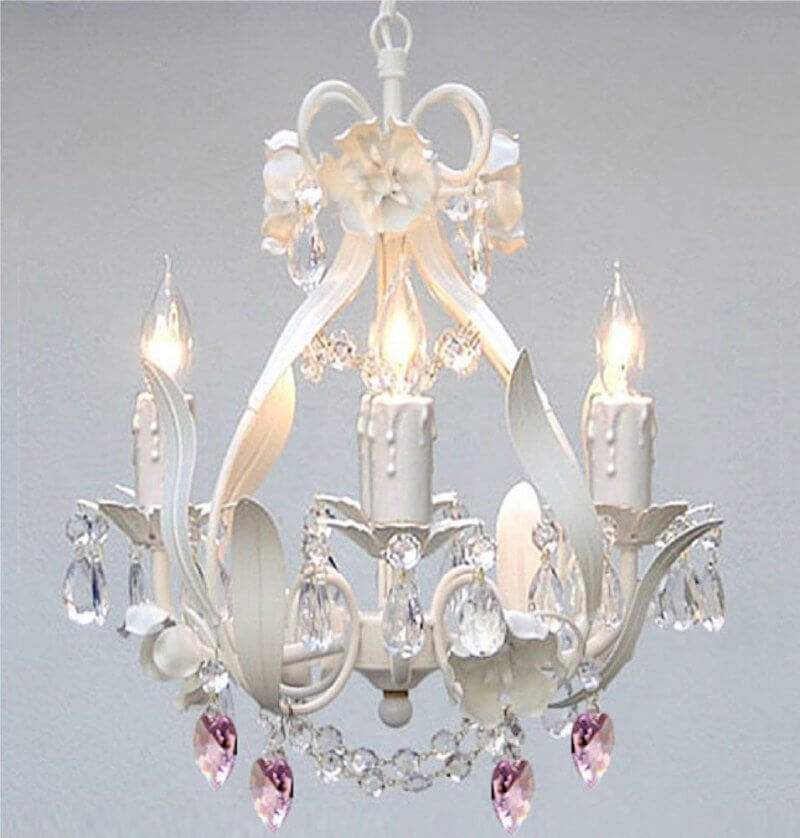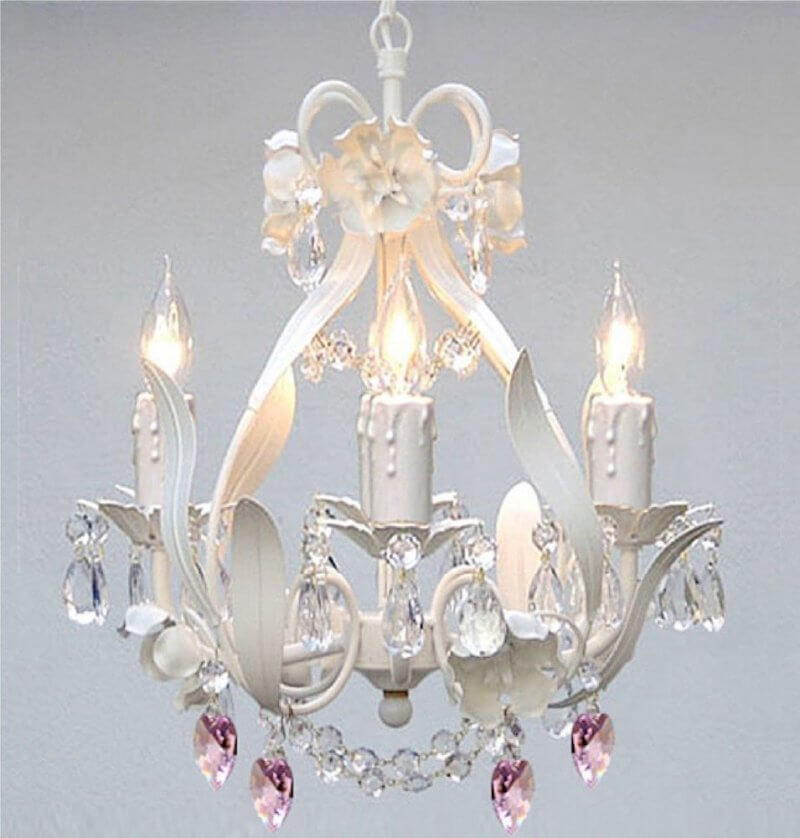 shabby chic chandelier
White Wrought Iron Floral Chandelier Crystal Flower" – Check out on Amazon.com
DIY Shabby Chic decor
This kind of furniture you don't need to buy in shops, you can quite easily do it yourself.
Take some old furniture that is rich with curved lines, some ornaments, and carvings. Repaint with the white or the color of your choice, and you will get the charm of shabby chic furniture. With a little money and effort, you will get a brand new piece of furniture that will fit perfectly into your interior.
When it comes to this style improvisation is very important, with the help of old and new to create something unique.
Here are a few steps how to make your home a shabby chic home:
Regularly go in search of a potential "treasure" to the flea markets, antique shops, find stores with second-hand furniture.
Don't be afraid to process furniture and decorative objects in shabby style: no mistakes, it is the creativity and imperfections! All you need are gloves, sandpaper, acrylic matte colors in pastel shades, wax, brush, possibly new handles for furniture (of course in antique style).
Use a mixture of different materials and furniture styles that fit together with each other but at the same time are different.
Use neutral tones with dark contrasts of the most prominent items in your room, making sure that the darker tones do not stand out from the general impression.
The main motif on textiles, furniture, and other objects should be the same
Basic color of large pieces must be very bright: best antique white
Tekstil, decor, and linen that go with this style are cotton, lace as the alpha and omega of style, never plush.
Use decoupage with napkins for decorating items.
For this style is always advisable to have fresh flowers: hydrangeas, roses, lavender, violets, hyacinths, peonies are the most common choice.
Preferable metals and decorations are antique silver, pearls, crystals
Use a few antique candlestick in old silver color with candles from which hangs the melted wax and put it in front of a large antique mirror, framed in white or silver profile.
Get a large crystal chandelier
Make muffins and cake with cream in a pastel color, sprinkled with candied rose petals and violets.
Dress in the linen garments, put on grandmother's pearls, chiffon, ruffles, lace and of course – pastel colors
If you want romance, elegance and serenity in your home, if you are in love with the spirit of the past, and you are as fascinated by the modern way of life, then shabby chic style is the right for you. Find old furniture and be creative.