Organize your makeup table to help you with your daily beauty routine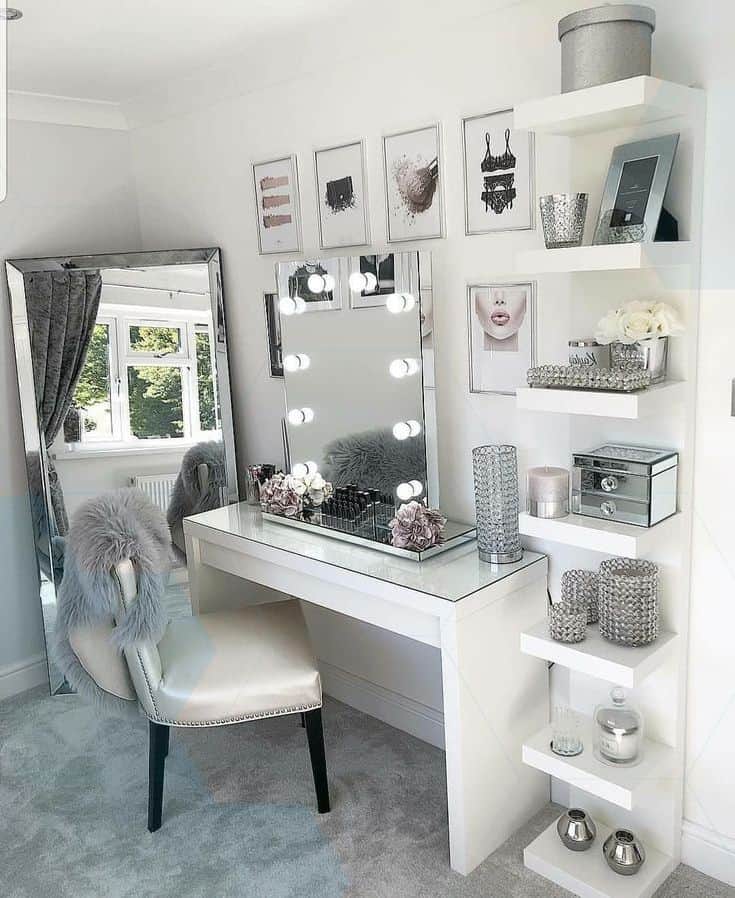 Every woman deserves a spot just for herself. The spot where she can make her more beautiful. One makeup table or vanity is a magic word.There are various solutions to have a perfect makeup table. You can buy it or make it by yourself according to your desired size and budget.
Find a perfect spot for a makeup table
You can choose a good place for your makeup table in different rooms at home. The ideal spot is near the window, because of the natural light, which is important for your perfect makeup.
Bedroom. This is a noble room to put your vanity in front of the window if your space allows it. It's also very practical if your clothes are there because you can get ready in one place.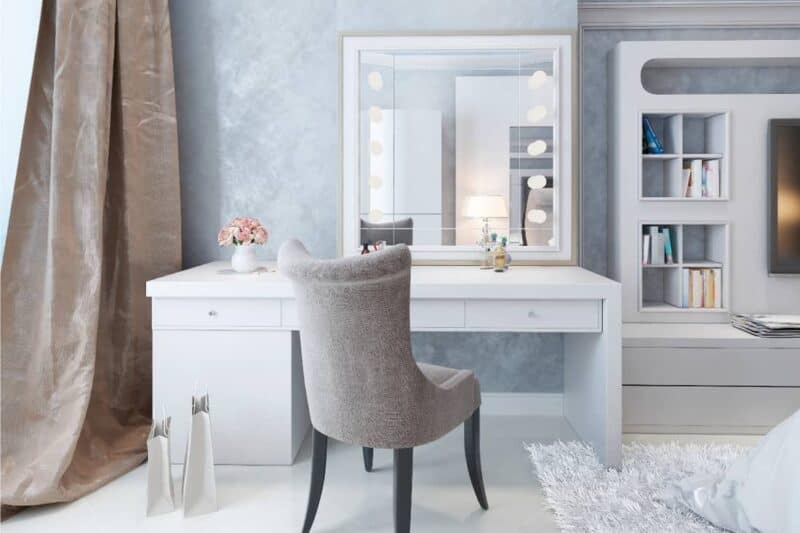 Walk-in closet For spacious walk-in closets, makeup vanity/table can fit very well. You can make it in the same style as your walk-in closet. If you decide on this option, you need to organize good lighting. Lighting is a common problem for walk-in closets because we don't spend a lot of time there.
Bathroom Bathrooms can also be an option for keeping your makeup there. Large bathrooms can have a spot for makeup vanity. It's important to pay attention to condensation and protect your makeup. Makeup requires a cool temperature, not too hot or cold. You can protect them by keeping makeup up in some boxes in drawers or some sealed containers.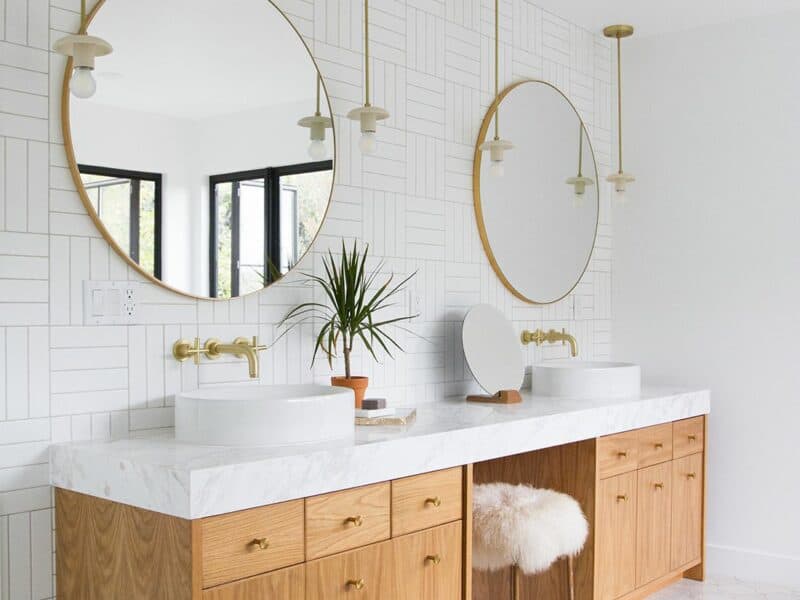 How to choose a table for makeup?
Before you find the right table, some factors will have an important role in this process. The first one is size. That is the reason you need to find a spot first. You will know how large the table can be.
The next factor is your style. If the chosen room is influenced by Industrial style, you should consider a wooden table with a metal frame.
Common makeup vanity height is 26-29 inches.
Buy a suitable chair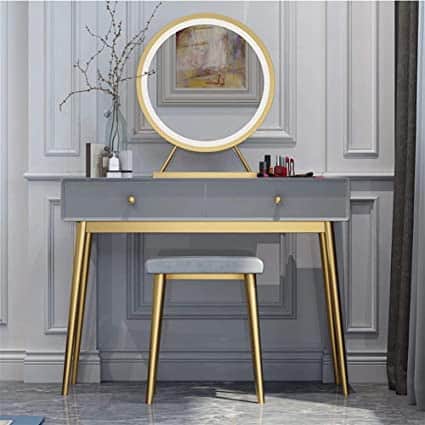 According to the fact that we don't spend a lot of time in front of the makeup table, you don't have to buy a massive and expensive chair. It's good to buy a smaller one, so you can move it under the table and save your space in the room.
Vanity chairs and stools have a common height and that is 18-19 inches.
Good lighting is essential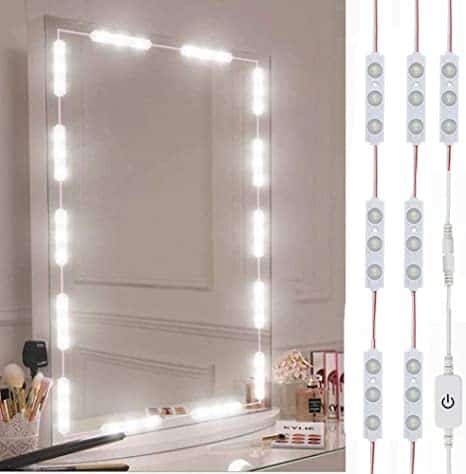 The most important thing in the makeup process is a good light. We all know that the best light is natural light. Otherwise, choose natural white light which is not too warm or too cool. The best choice is between 4,800K and 6,000K. LED lights can give you that natural light, and you can find them in different color temperatures.
Place wall-mounted fixture lights on both mirror sides.
Choose a mirror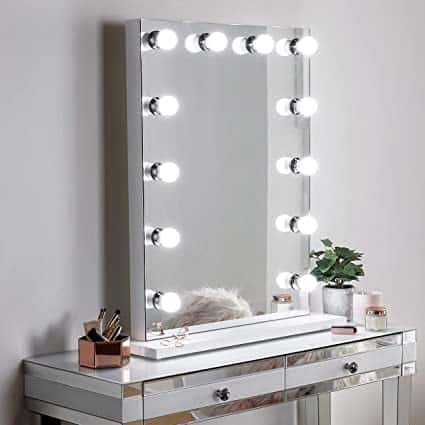 "Mirror mirror on the wall, who is the fairest one of all?" – Snowhite
To get the look that you want, you need a mirror. The mirror is an essential part of the vanity table.It's preferable to choose a mirror that is a few inches less than your vanity or sink.
Use organizers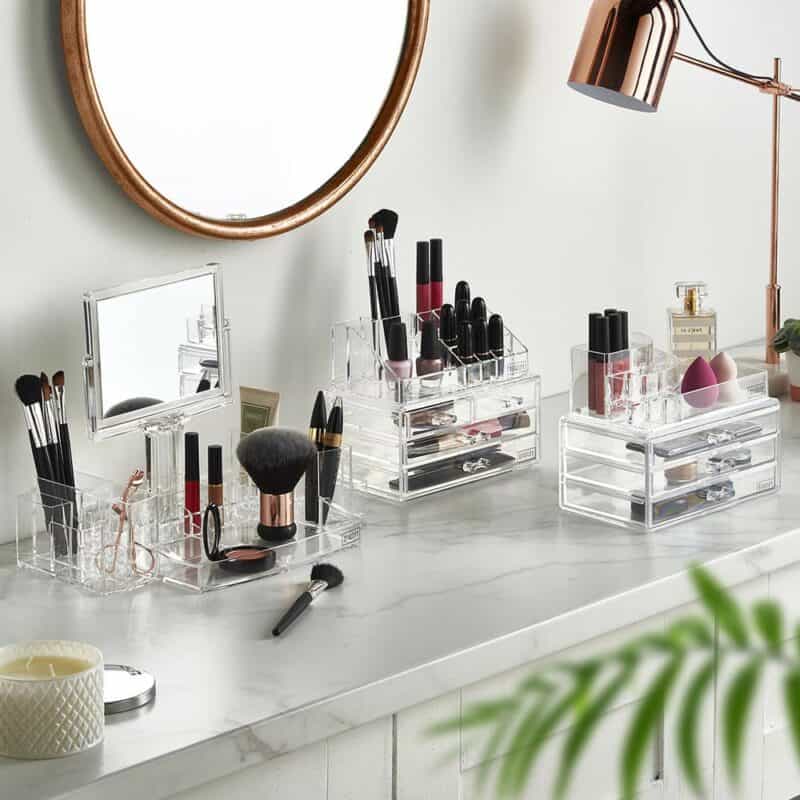 Imagine that you are in a hurry and cannot find a specific lipstick among all lipsticks on the table. To prevent that, organize them and save your time.
Buying organizers for your makeup is an excellent investment because you will find everything easily and won't have a messy table. You can also use some jars or glass for your brushes or buy some brush holders.
Keep your makeup separate and save your time. Categorize it in different boxes. Put your foundations in one box, eye shadows in another box or container.
For makeup tables with drawers, it's a fantastic solution to divide them, and you can do it with some organizers.
Decorate your makeup place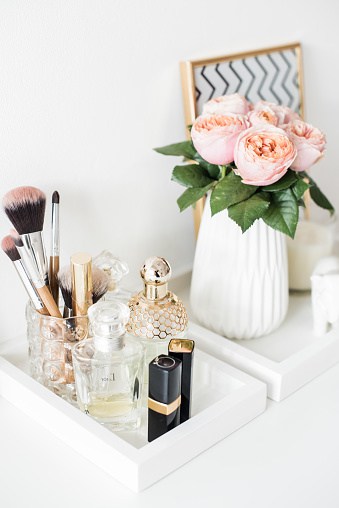 If your makeup table is in the room, it's great to make it pretty. Organizing your makeup table will definitely give a pleasant look. You can also put some flowers or candles and it will be more elegant. Put a stylish antique and keep some jewelry on it.
Make your makeup table perfect and feel like a Hollywood star when you sit in front of it.