The secret how to organize your rooftop to look like an oasis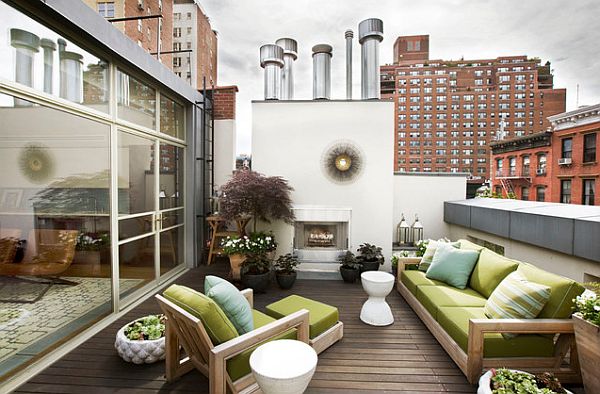 "Rooftop-A place for a garden. A place for salsa. A place for candlelight dinner. A place to gaze at stars. A place to bring out the writer within." – RoMa
It's magical having a rooftop garden. You will get the best view and you can make your perfect spot, enjoying yourself with your family and friends. With a good organization and useful tips, everything is possible.
Make a plan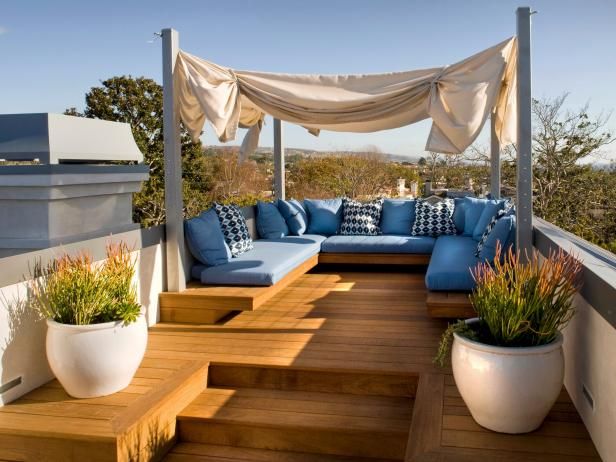 How do you like to spend your spare time? Make a plan according to this question. If you like to gather with your friends and have dinner together, make a barbecue area. Having a dining area outside is very nice and can be very romantic. For chilling outside, make a private area with a lounge sofa. If your budget allows it, place a swimming pool on your rooftop. This is an important step before you do anything on the rooftop. With a good plan, everything is easier.
Flooring ideas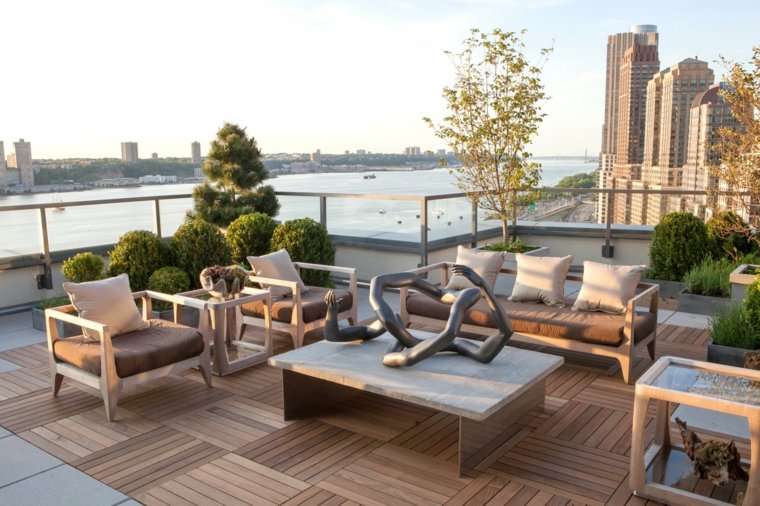 Before you choose the proper material for the flooring on your rooftop terrace, think about all the weather elements the floor needs to resist. Common outdoor materials for the rooftop are tiles, stone, concrete, wood, gravel, clay…
Tiles. Tiles are an excellent choice for the terrace because they are resistant to any climate conditions. Tiles are easy to clean and maintain and you can find various beautiful designs and shapes. Another significant benefit is that you can buy tiles with a slip-resistant option, which is perfect for rainy and snowy days. The best tiles for the rooftop terrace are ceramic and stone effect porcelain tiles.
Wood. Wood is a perfect material for a rooftop deck. High-density hardwood fits perfectly outside. Common wood materials suitable for outdoor conditions are ipe, teak, western red cedar. The most durable and resistant hardwood is cypress. Another material worth mentioning is exterior plywood. It's a very strong and weather-resistant material.
Concrete. It's a common material for rooftop decks. Concrete is usually thick at least 3 ½". The benefits of this material are that it's flexible and supports heavy materials.
Make shades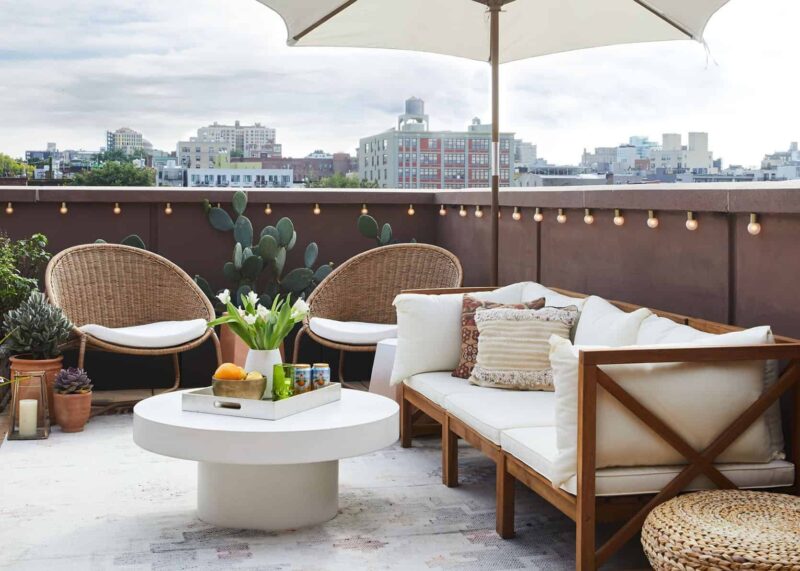 During the summer and hot weather, the rooftop will be sunny. It's great to have a shade where you can sit and enjoy. You can make a shade in different ways. The easiest and cheapest way is to buy a large garden umbrella or a sunshade. It's very practical because you can move it wherever you want to sit. Another solution is to cover one area. Covering a particular part of the terrace can be good for rainy days too.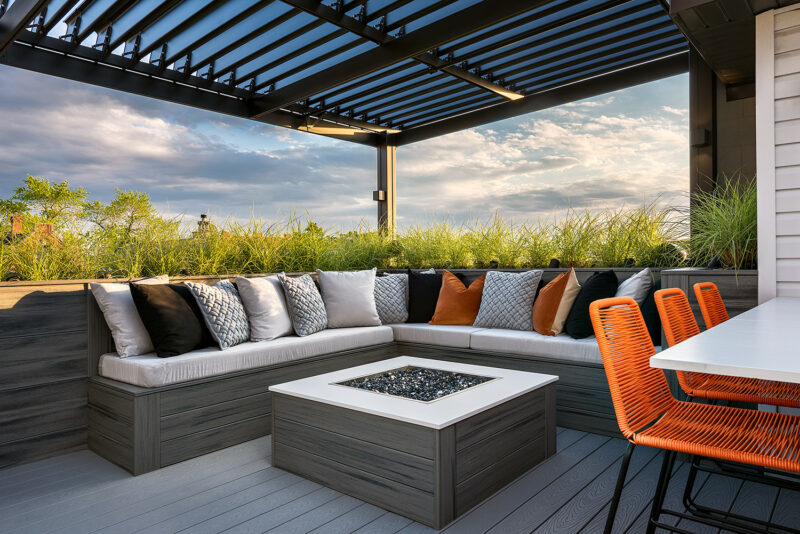 Bring more plants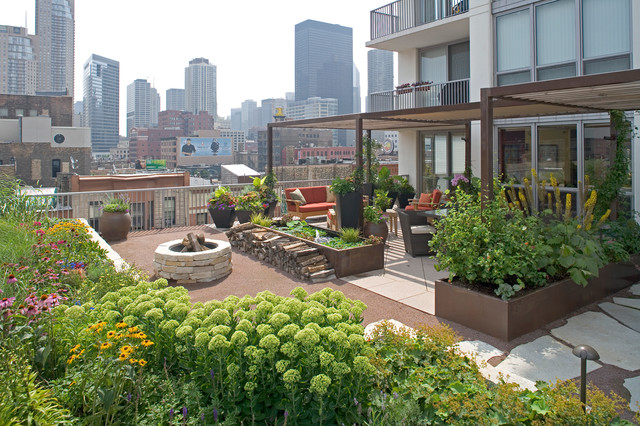 Go green! Bringing plants on the rooftop will make it a real oasis. The area will look more natural and beautiful with different kinds of plants around it. Before buying the plants, ask the florist for wind-resistant plants. Some popular plants are Astelia, Holly Topiary, Hydrangea, Dwarf Hinoki Cypress, etc. You can also plant herbs or vegetables in your garden. When we talk about vegetables, you can plant easy-growing vegetables, such as tomatoes, peppers, zucchinis, broccoli, lettuce, cucumbers, etc
When you choose your favorite plants for the terrace, buy containers for them. They need to be deep enough for the roots of the plants.
If you like having your own little garden on the rooftop, you can do it!
Choose the right furniture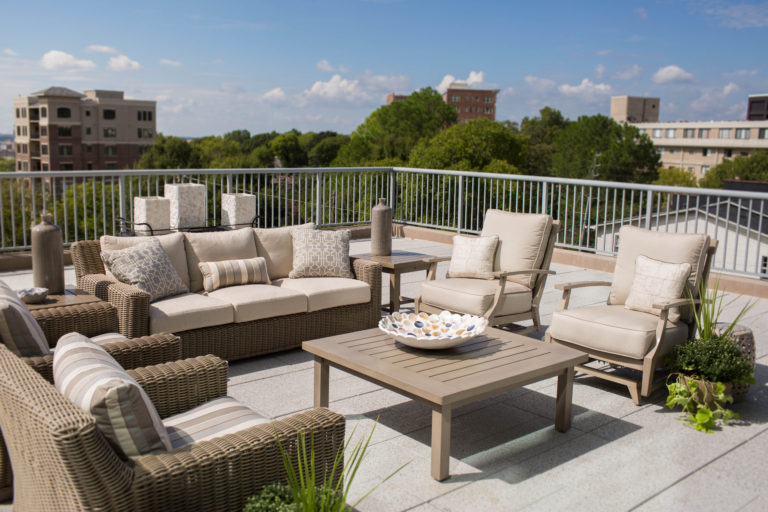 As it's mentioned before, the purpose is very important. Nice lounge furniture is a must-have on the rooftop terrace. Chilling outside with a pleasant view on a comfortable sofa is a win-win combination.
If your terrace is big enough, a dining area is a great shot. It can be very romantic having dinner outside during summer nights.
Find a proper lighting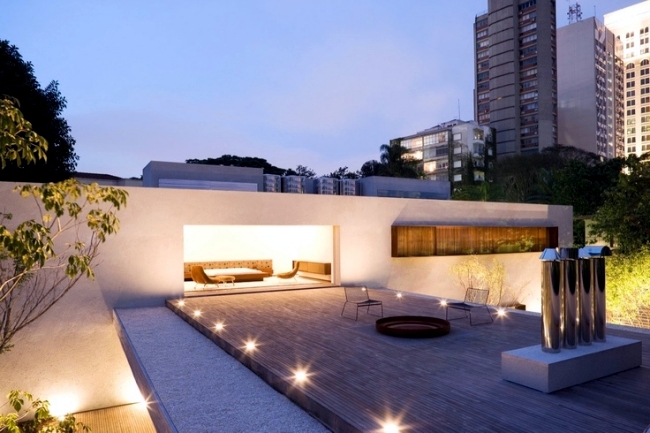 Install proper lighting on the rooftop and enjoy the night. Without proper light, you cannot sit outside or have dinner when it's dark. Some proper lightings are integrated lights, fairy lights, or recessed light fixtures. Integrated lights fit to any kind of terrace. You can install them anywhere, especially if you want to put a focus on a specific area. It looks very nice because integrated lights are hidden.
It's time for decoration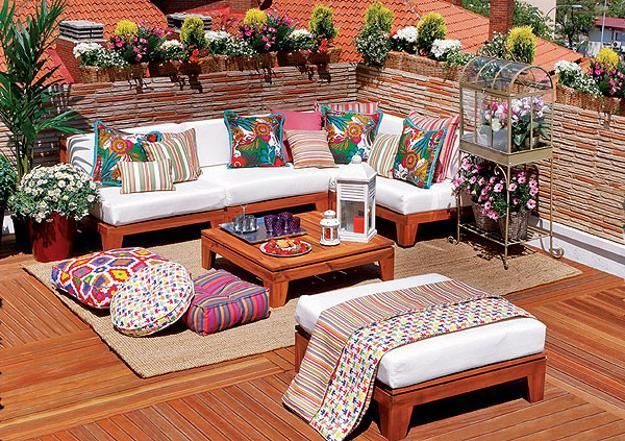 Give a personal signature to your oasis, adding decoration. Place some decorative cushions in the lounge area. Your sofa will get a fresh look when you put some colors on it. Flowers always make the place more beautiful. Find a decorative vase for your lounge and dining area and decorative pots to make your terrace pretty.
With all these tricks, you will make your rooftop terrace look like a beautiful oasis.