Tips and tricks how to choose outdoor furniture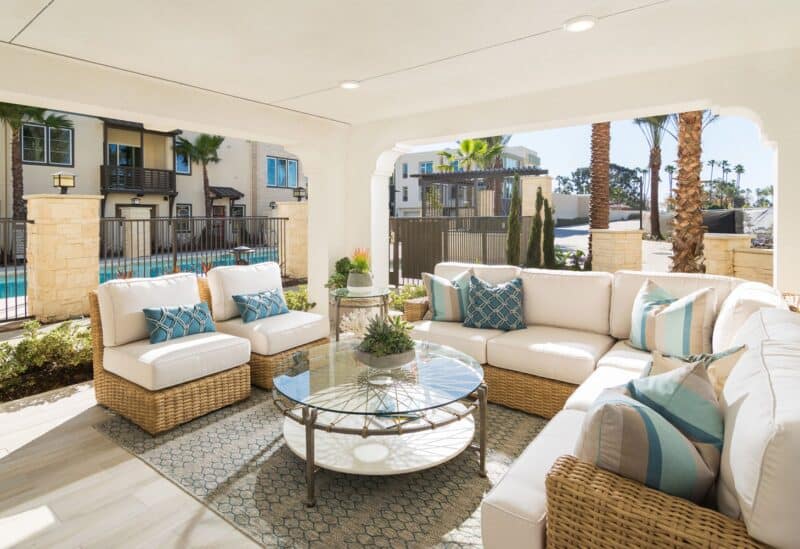 During the nice weather, we all love to spend time outside. In the garden, we can organize a barbecue with our family and friends, drink morning coffee and enjoy the sun, and read a book.
If you have a garden, make it perfect for you. Organize everything for your needs.
How to choose furniture?
The first thing you have to do before buying furniture for your garden is to think about the purpose.
If you want to have a barbecue with your friends and have dinner outside, you will need a dining table and chairs.
If you want to drink coffee or tea outside and read a book, you will need a sofa and a lounge chair with a coffee table. 
If you have a swimming pool, it's perfect to put in some chaise lounges. 
If you have a big garden, the perfect choice is to organize it in those three or four areas. Make a dining and barbecue area, lounge area, and pool area. For homes with children, always leave the space for a playing area, where you can add some outside toys. 
What material is the best for outdoor furniture?
It's very important to choose material that is durable and resistant to different weather conditions, as your furniture will be exposed to rain, wind, snow, hot and freezing temperatures, etc.
Metal. It's the strongest material, so it's an excellent choice for outdoor furniture. It's also very durable. Another benefit is that designers and manufacturers can make different shapes and designs with metal frames, thanks to its flexibility and strength.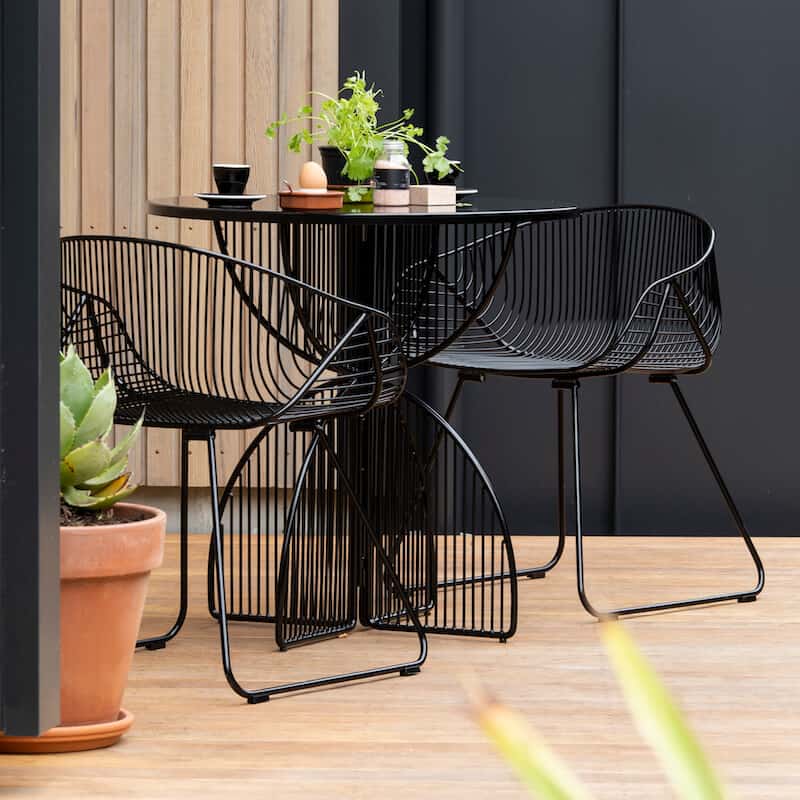 Wood. Wood looks beautiful outside because it matches with nature and makes a relaxing and natural atmosphere. One of the strongest woods is black locust and it can be excellent for outdoor furniture. The most water resistant and durable wool is cypress.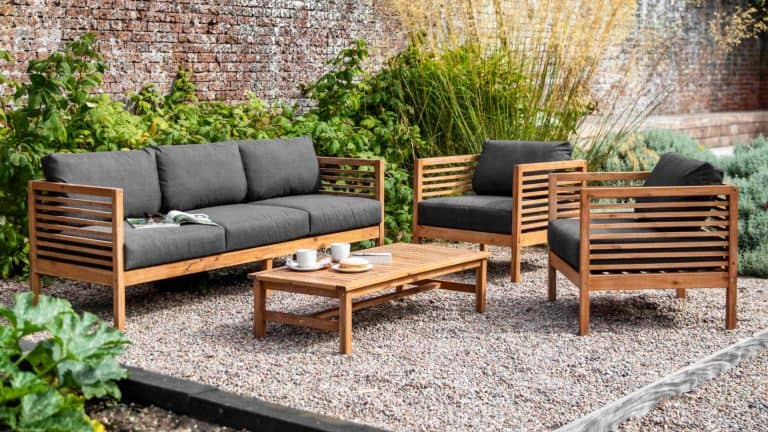 When we talk about regular woods, pine is a great choice. If it's pressure treated, it will last long and be more resistant. Other wood species for outdoor furniture are teak, cedar, acacia, redwood, etc.
Iron. Iron can look very stylish and attractive outside, so many restaurants like to buy wrought iron framed outdoor furniture.
Cast iron is also a very durable material and it's more resistant to corrosion than wrought iron.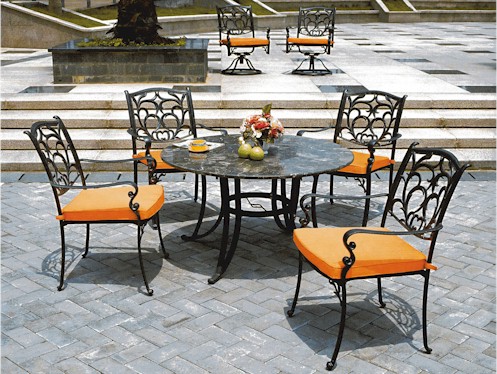 Aluminum. It's a strong material and the most popular metal for outdoor furniture. Aluminum is very durable, and it's lighter than iron. What is important to mention is that aluminum is an affordable material.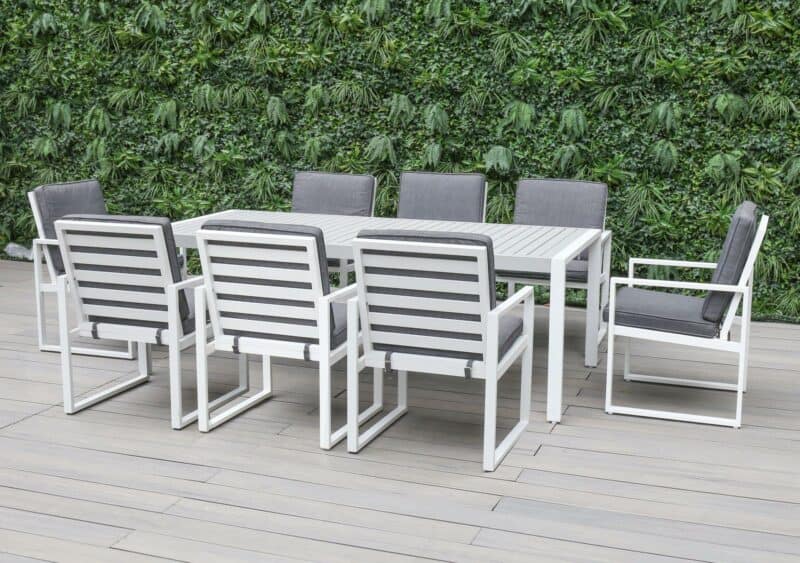 Rattan. Rattan is a very popular and common choice for outdoor furniture. People always use it for the balcony. Rattan can be waterproof and weatherproof, and it's important that you don't need to move them, but always have in mind to move cushions inside. It will take a long time to dry them after that.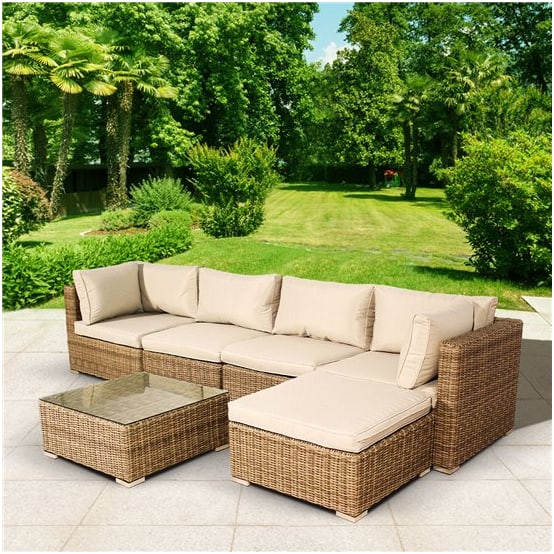 Common fabrics for outdoor furniture are polyester, olefin, acrylic, and nylon.
Arrange the furniture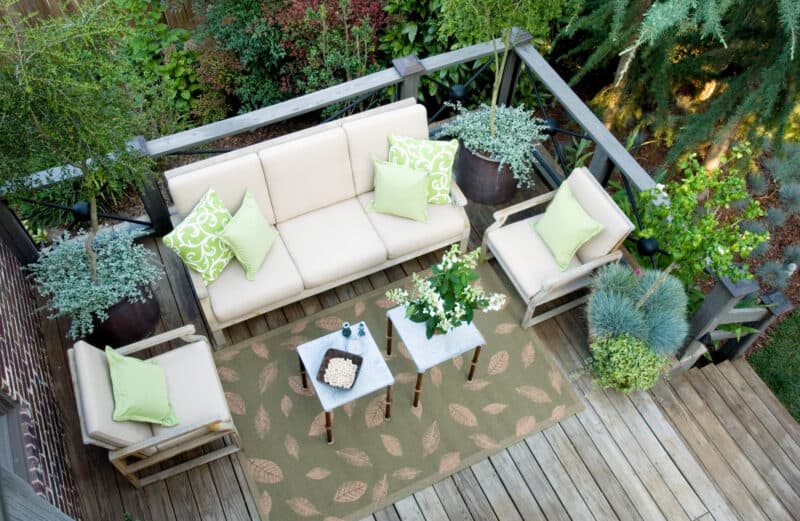 Before you think about how to arrange furniture outside, measure your garden. It's easier to make a plan when you know how much space you have for positioning your furniture.Always use a traffic flow rule. For high-traffic areas, you need more space.
Choose a focal point in your garden. Think about what you want to see when you sit on your sofa or chair and drink coffee. This will be a good start.
Dining area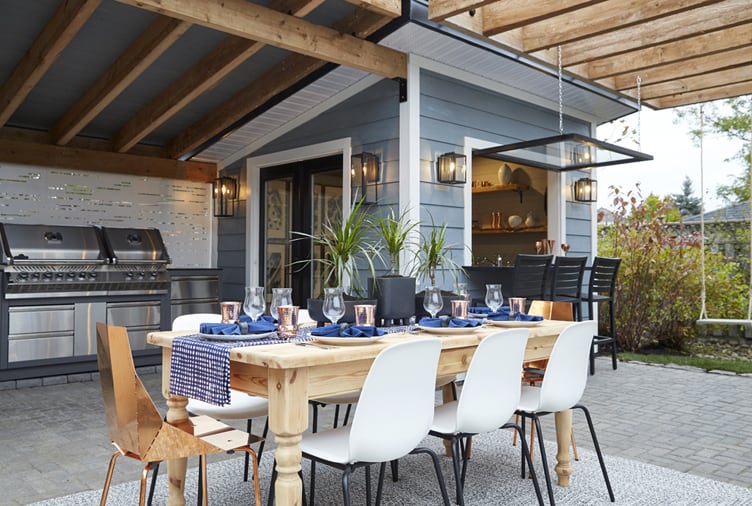 Before you place a dining table and chairs, make ideal flooring for this area. You don't want to have an unstable positioned table and chairs that are moving while you are eating. For the flooring, decking can be a perfect choice or you can choose outdoor tiles.
If you want to make this area more comfortable and warmer, put some accessories on. Place some plants in decorated pots around the area. You can also buy an outdoor rug and the area will look totally different.
For dining areas that are far away from the kitchen, it's perfect to make a small kitchen outside, so everything will be positioned there and you don't have to walk around.
Lounge area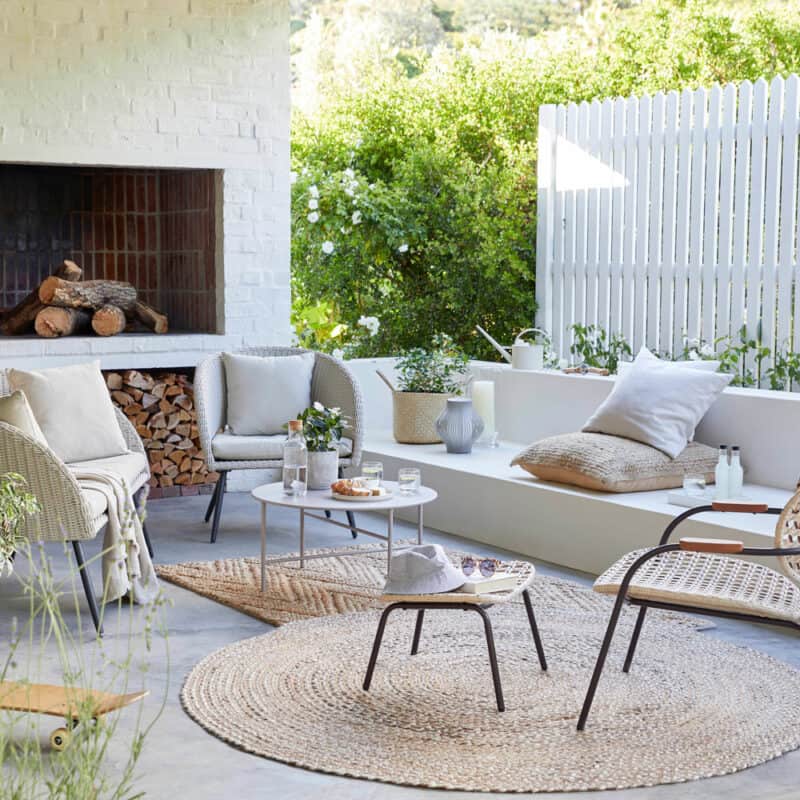 As you need to start with a flooring for the dining area, you need to do the same thing for the lounge area. Building a patio is a perfect solution for flooring a lounge area. Make this space cozy and comfortable by adding pillows and choosing a comfortable sofa. Depending on your space, you can buy a sofa set or even just a sofa. For small areas, two outdoor chairs and a coffee table can be enough.
Swimming pool area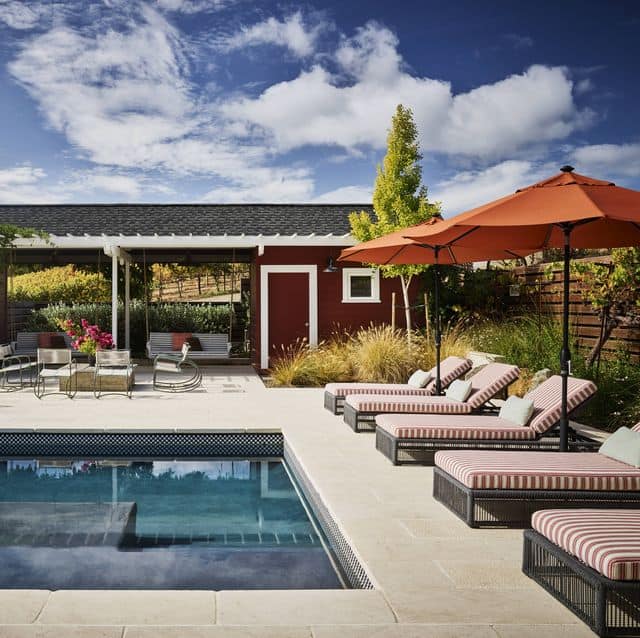 This area is perfect for sunbathing, so organize it with poolside beds or chaise lounges. A common length for lounge chairs is between 73-80 inches. Place an umbrella made with an aluminum pole.
Use decorating tips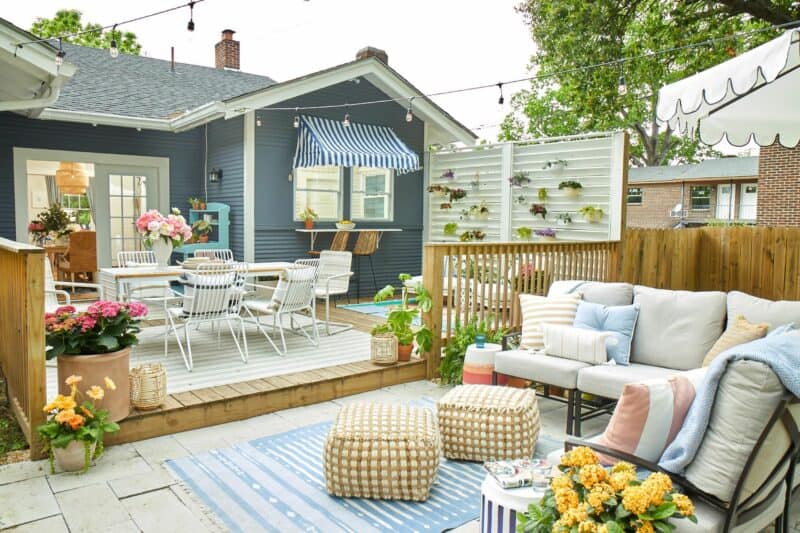 Decorating your outdoor space is a final touch. Choose a style. If you want to go with boho style, place cushions and different patterns.
Decorate your area with flowers, pots and plants, and colorful rugs. Don't forget good lighting in all areas.
Make your outdoor space beautiful, comfortable and functional for every desired purpose.