Top 5 tips for finding a place for TV in the living room
"Television is an invention that permits you to be entertained in your living room by people you wouldn't have in your home." – David Frost
Watching TV is a common habit in everyone's home. People like to watch TV in their spare time. Watching sports games or movies with friends and family is a great thing to do on weekends.
Finding a perfect spot for the TV is very important, especially if you spend a lot of time in front of the TV. Let's find an ideal spot for your living room.
Where should I put the TV?
The best place for putting a TV in the living room is at the focal point. It's good because you can watch TV from all angles. Another spot is across from your sofa. That is the place where we spend most of our time in the living room, so it would be a perfect position for placing your TV there.
When we talk about height, place your TV at your eye level. Common height is around 4 feet of the ground. The most important thing is that you feel comfortable while you sit on the sofa and watch TV. If the TV is positioned very high, you will get pain in your neck and won't feel comfortable.
Hang it on the wall
This is a standard way to position your TV. A good thing is that you make that spot effective and modern. How? Easy! Play with your wall. You can always paint the main wall. Otherwise, covering the main wall with a wall texture is really modern. Using a wooden(faux wooden) wall covering can be very effective and make the room warm. If you like simple things, with little decoration, this one is perfect for you.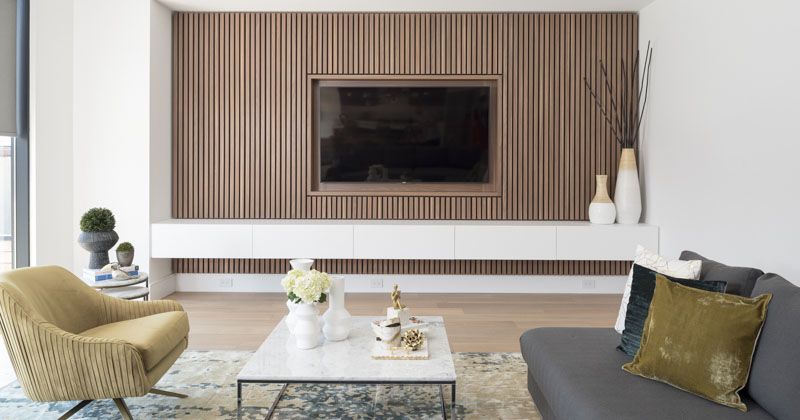 Use your fireplace
Having a fireplace can be so dreamy and make a cozy atmosphere, especially during the winter. The fireplace is usually in the focal point in the living room, so this is a perfect position for the TV, too. Hang your TV above the fireplace. It's essential to take all protection measurements before you install your TV. If you don't have a mount above the fireplace, now it's the right time to do it. It's one kind of saving the TV from the heat. Put your TV 12 inches above the mount, especially if the mount is 4 feet from the floor. Doors on the fireplace are another way of protection from the heat. Actually, doors won't save just your TV from the heat, they will save children and pets from the heat.
Place it on the TV shelf
There are various models of TV shelves, and they can be ‌decorative and modern. It's also very functional because you can keep some things there. For example, you can use one of the shelves for books. If you don't want to have TV stands and ruin your wall, this option can be perfect for you.
Built-in shelves
Making a wall into built-in shelves is also a trendy option. You can use it, and save one spot for your TV. Position the TV in the middle of the shelves. You can play it with this wall now. Add your style, personality there. Decorate shelves with crafts, candles, plants, photo frames, books, or anything you like. It's very nice to make a library wall.
You can also combine it with a fireplace. Place built-in shelves on both sides, so the TV will also be in the middle of them.
Decorate TV with art
If you are not a fan of a plain wall, make art on it! Hang pictures around the TV and make an art wall. Gallery walls can implement the room and make it more vivid. To achieve a perfect and clean look, hand pictures at the same height. The distance between the two pictures should be the same. If you want to have a more creative vibe, you can do that by choosing different frame sizes. Place them unintentionally around the TV.
You can do that by hanging the TV on the wall using TV stands. Otherwise, you can also make a gallery wall with your TV on the shelf. Here, it's better to use a higher shelf or even a dresser. You can choose a dresser according to the style of the living room. If your living room is in retro style, you can find beautiful retro dressers that can fit in your living room perfectly.
Choose your favorite spot and make the wall around the TV decorative. Then, you can enjoy watching TV with your family and friends.