Bring retro style in your living room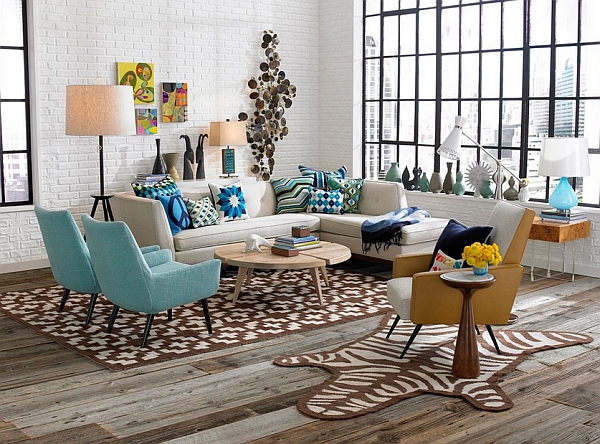 "The living room should be a place where we feel totally at ease – temple of the soul." – Terence Conran
Living room is the place where we spend most of our free time,gather together with our family and friends, and collect pleasant moments. So, we should make the living room match our personal taste. It's essential to feel comfortable and satisfied inside. You can do that by choosing your favorite style. If your favorite style is retro, these ideas will help you make your perfect retro living room.
What is a retro living room?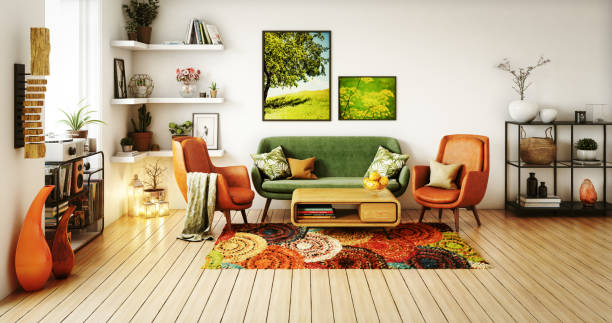 First, what you have to do is to meet with a retro style. When you know everything about this style, you can implement it in your living room. The retro living room implements a mixture of old and new, modern and traditional, which is the point of the retro style. You can mix styles from the 1950s till nowadays. It's totally fine to bring a few colors and patterns into your room.
How to style a retro living room?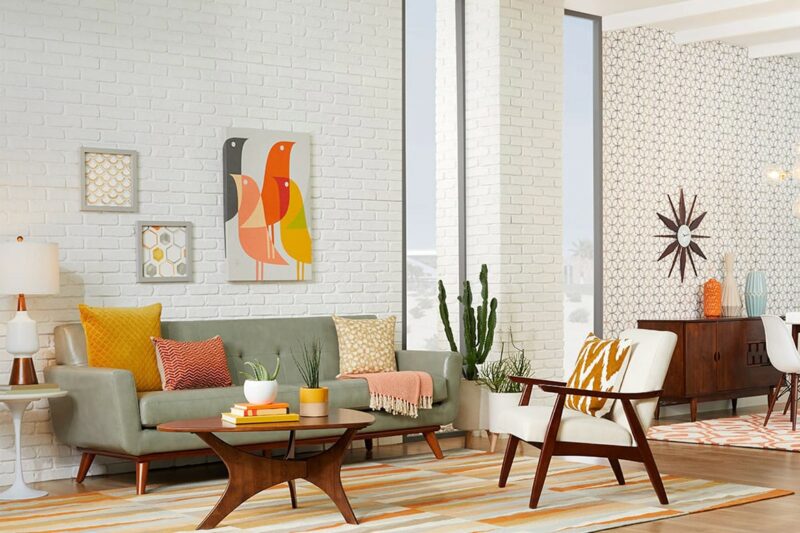 There are various ways to style your living room and bring a retro vibe inside. You can do that on your sofa. If you want to save your budget and old sofa, change its look with a few colorful cushions. Style the room with a side table, chandeliers, or traditional cabinets. Buy a piece of mid-century furniture in the living room. Even better, explore your grandparents house and maybe you will find the perfect stuff for your living room. Recommended shapes are curved and angled.
Retro open floor plan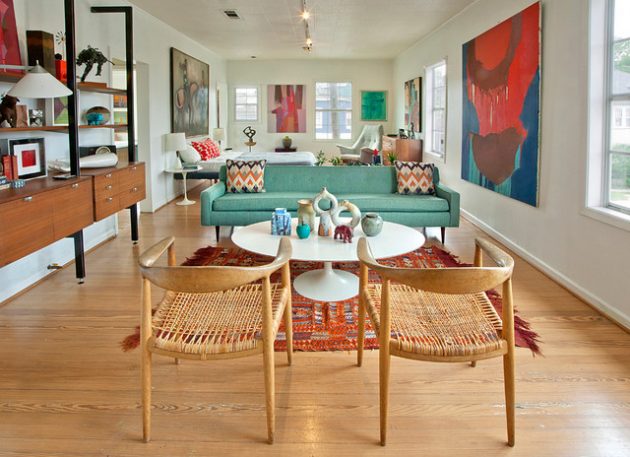 An open floor plan is very popular and can be very practical. If you combine a modern open plan with a retro style, you will get a perfect match.
An ideal lighting for the open plan living room is bright with some trendy and funky colors. You can hang retro ceiling pendant lights with clear or tapered glass shade, with copper details or glow white inner.
If you want to have a brighter living room, choose white sofa, or sectional sofa and decorate it with blue, orange or choose your favorite color. You can match white with different shades, and what is better, you can play with colors and patterns to achieve retro vibes. Place white chairs with black or brown chair legs and match it with a coffee wooden table in the same color.
Don't be afraid to experiment with furniture. Pick two or three colors and use them for the living room, for your walls and furniture. If you want to make the space more vivid, place white oversized sofa and orange armchairs. Put a wooden cabinet in the corner and uy a glass coffee table.
Place furniture in the living room and bring a retro atmosphere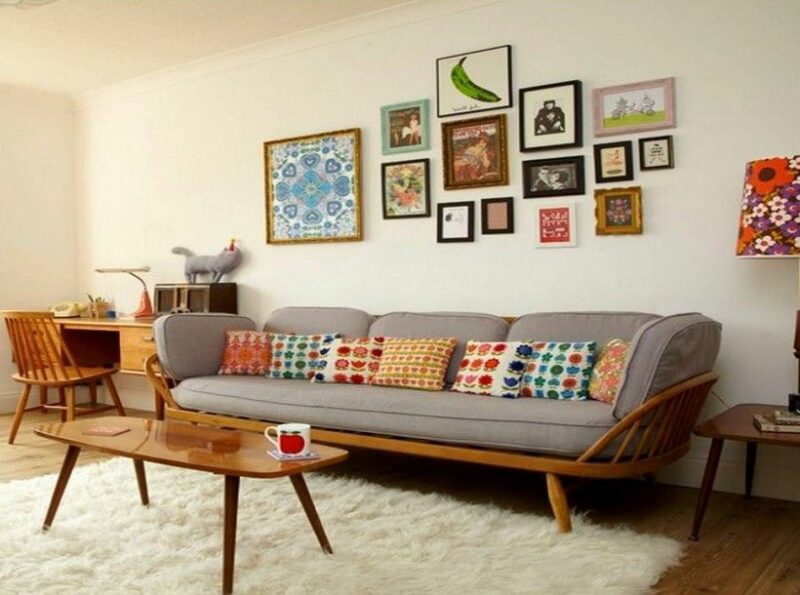 The beauty of this style is that it is subjective. You can make it by yourself following useful hints. Common retro furniture is from the 50s, 60s, and 70s. Now, you can find them with modern furnishings. You can´t make a mistake with an oversized sofa, clear lines, colorful cushions and retro lighting.
Wood and leather in your living room – why not?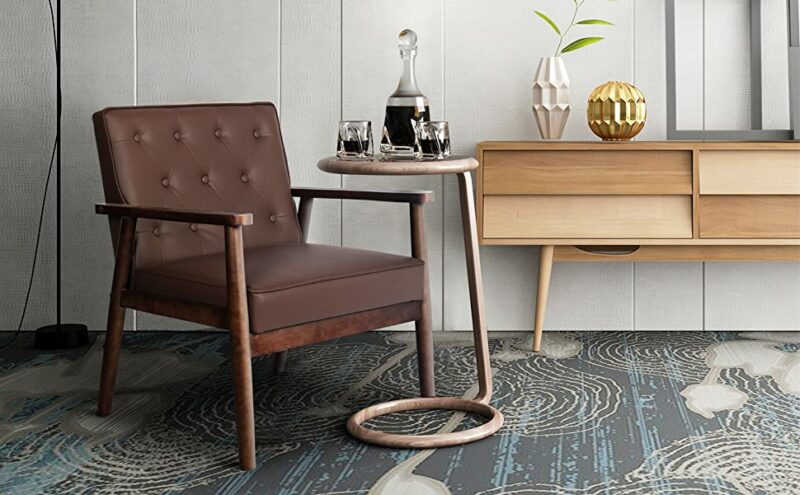 If you are a fan of leather, combine it with wooden furniture. Place a leather sofa and armchairs in the living room. Combine it with a wooden coffee table and cabinets. You can also add some wooden shelves. To make the place brighter, add some colorful and bright details, such as a picture, carpet and bright cushions. A light carpet(beige) can look excellent with this combination.
Choose the shade of wood and leather leading to your personal taste, but have in mind that the space should be warm and bright at the end of your project.
Retro living room chairs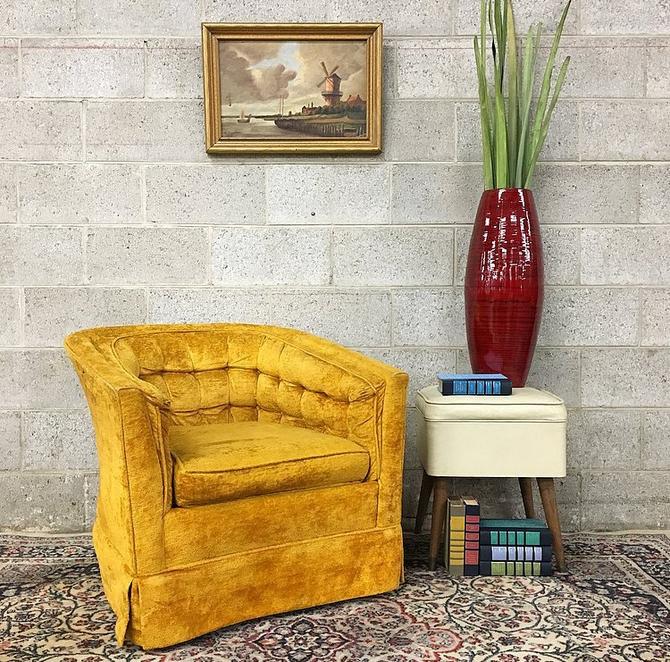 If you like to have a reading corner in your living room or need more sitting spots, place a retro chair. The chair doesn't have to be the same color and pattern as your sofa. You can choose:
a wide tufted barrel chair
a wide armchair that you can combine chair legs with your coffee table
a wide tufted velvet side chair
an armchair with an ottoman
hanging pod chairs
It's also important to find a comfortable chair. You can find different models here.
Retro coffee tables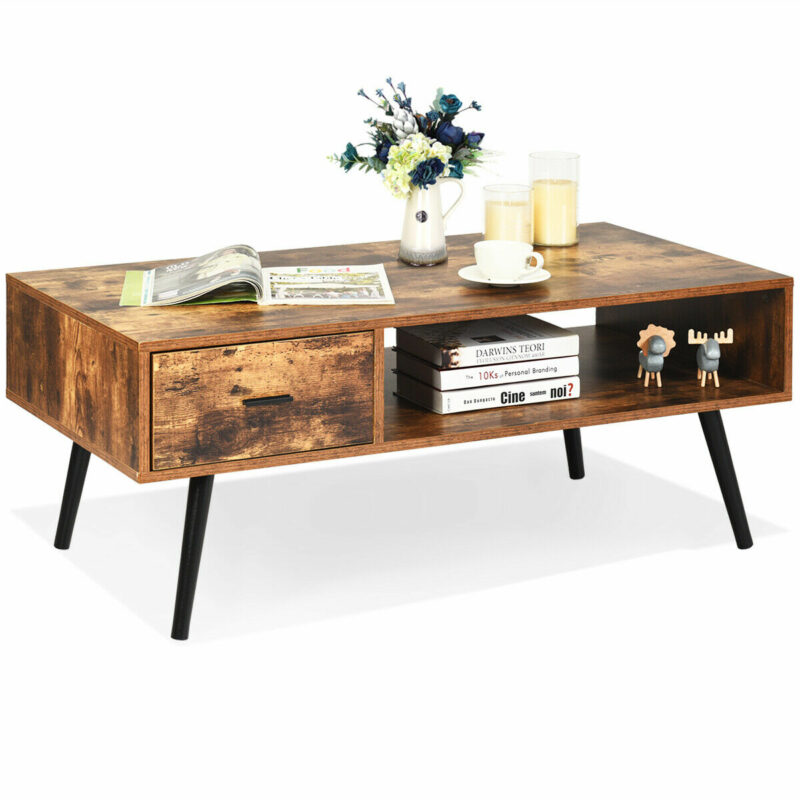 We know how important a coffee table is to the living room. You can find various retro coffee tables. A wooden coffee table is a common choice. They are perfect with clear and oval lines. If you like metal legs, combine it with a wooden top. Another brilliant match is wood and glass top.
Make your living room warm, cozy and comfortable and achieve the retro look.